Neither team had the result they wanted in week two. The Saints fell to Tom Brady's refs…… I mean Bucs and Carolina lost to an average New York Giants squad (Despite what their record says).
That leaves two teams with a lot to prove heading into to week three and a matchup that both teams need to win.
I'm going to highlight 3 key matchups. who's playing and who's not? and of course a score prediction for the game.
Overview
After two games both teams could easily have different records. New Orleans sit at 1-1. If not for a miraculous fourth quarter comeback in week one they'd be 0-2. If not for a fourth quarter meltdown in week two they very well could be 2-0. 1-1 feels right so far for a team that have struggled to string together more than one consistent quarter of football, where all three sides of the ball play well and complement each other.
The Panthers have lost two games by a total of five points. They nearly produced a Saints like fourth quarter comeback week one against the Browns if not for a late field goal. Then fell to the Giants after being tied for most of the game.
Both Teams need to find an identity, this not unusual early in the season but this is especially true of the Saints. Are they are run first team, that want to hit the play action bombs off of that kind of team? Are they the quick rhythm, short throws and get the ball in your playmaker's hands kind of team? It doesn't seem like they know, but they need work it out quickly.
The Saints lead this series three games to one since Matt Rhule has been the Panthers HC. Those games were all of course under the watch of former Saints HC Sean Payton. Can new HC Dennis Allen keep that good form going? Here's some of the matchups the Saints need to be on the right side off.
Key Matchups
Panther LB Blitz Vs Saints Pass Protection
The first Panthers matchup last season was a shambles for the Saints. Carolina blitzed them over and over, the Saints couldn't handle it. So much so former NFL o-lineman and Twitter legend Brian Baldinger was mystified at how the Panthers ran the same blitz three plays in a row because the Saints couldn't block it.
Brian Baldinger criticizes Saints' offensive line miscues vs. Panthers (usatoday.com)
Now, why am I bringing up a meaningless game from last season? Well, the Saints have struggled with the Blitz again this year. In both games so far, we've seen Winston sacked by blitzing LBs who were not picked up by the Saints o-line. Two examples here:
Atlanta Falcons week 1 SACK compilation | Highlights | Saints vs. Falcons – YouTube (54 seconds in)
Jayden on Twitter: "First sack of the day comes on a perfectly executed coffeehouse stunt by Lavonte David. Ram bites on the fake – sack https://t.co/tN56rOx8iS" / Twitter
Panthers DC Phil Snow has shown he's willing to attack your weaknesses and keep attacking them until you prove you can stop them. The Saints did improve in this area week two, but it was still a problem and id expect the Panthers to try and exploit it.
This can't be a consistent problem for the Saints on Sunday; these plays kill drives and kill your QB. Jameis Winston has four fractures in his back and can't keep taking shots from free rushers running full speed.
McCaffrey Vs Saints LBs
The Saints secondary should match up well against the Panthers WRs and TE's. Christian McCaffrey is the x factor.
He's had an unusually quiet start to the season in the passing game through two games he has only eight catches for 50 yards. Compare that to the first two games of last season his usage in this area is way down. At this stage last season, he had over three times the yards (154) and nearly twice the number of catches (15).
In those games last season, the Panthers were 2-0. This year with McCaffrey's reduced role in the passing game they are 0-2.
You have to think this usage is something they want to rectify as it's a proven winning formular.
The matchup they want for McCaffrey is against a LB. The Saints do have the LBs that could hold up in this matchup. Per PFF Pete Werner has a 82.4 coverage grade good for 7th in the league among LBs. Demario Davis ranks 13th with a 76.2 grade.
These Saints LB's will need to continue this good form on Sunday for the Saints to come out on top.
Davenport Vs 'ICKY'
Will this finally be the week that Davenport takes over a game? I feel like it has to be. He will primarily be lining up against rookie LT Ikem Ekwonu, who, to put it bluntly has not played well so far.
Ewonu is rated as PFF's 64th LT out of 65 and has given up 3 sacks and 7 total pressures in the 2 games so far. This should be a matchup Davenport can win and win well.
Davenport and the rest of the Saints rush should have enough time to get to the QB this week. Baker Mayfield's average time to throw per PFF is 2.89 seconds that's 0.6 seconds slower than Tom Brady last week and ranks him as the 11th slowest thrower in the league. 9th slowest if you only include starters. It may not sound a lot but that is difference between a pressure and a sack.
If Brady didn't get the ball out so quickly last week, then I think Davenport would have impacted the game a lot more the stats sheet. He had one QB hit and one QB hurry, which isn't bad considering how quickly Brady got the ball out.
This Is the week for Davenport to announce himself and show he's a rising star in the league.
State of the Rosters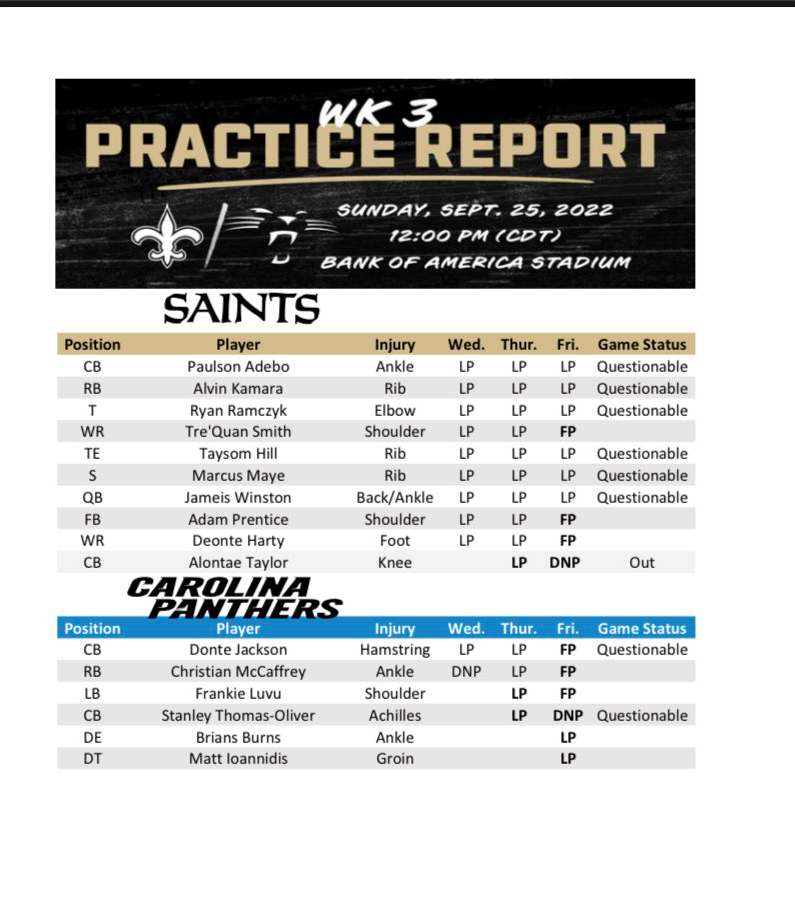 It looks like both teams will be close to full strength this week. Despite a lot of Saints players being listed as 'Limited' this week, there doesn't seem to be much concern about them not playing on Sunday.
Saints hope to have training camp MVP Paulson Adebo suit up for first time this season. Allowing Bradley Roby to move into the slot, this was the role the Saints wanted for him after trading C.J. Gardner Johnson. This could be even more important if Marcus Maye can't play, with Roby in the slot that would free up Justin Evans to cover some of the Maye's snaps at safety along with P.J. Williams.
Sadly after sustaining a Knee injury in Thursday's practice rookie Alontae Taylor isn't going to be able to build on this strong performance last week against Tampa. He is out for Sundays game.
There was a scare earlier in the week for Carolina when McCaffery was added to the report with an Ankle injury. He will play on Sunday per multiple reports and is carrying no injury designation for the game. Donte Jackson was also a concern for Carolina and is questionable but practised full on Friday which is usually a sign he will play.
Score Prediction
This is a big game for both teams, the Panthers must win if they want to have any chance at making the playoffs. The Saints really need a boost before heading off to London for week 4 and really don't need another division loss on their record.
It should be a get right game for two of New Orleans struggling units. The offensive passing game and the pash rush.
I think we see a better offensive showing this week, but still not perfect. With Winston having a much more consistent game passing with more rhythm. Maybe not consistent for all four quarters as he's still working his way through his back injury.
The Saints continue where they left off last week and dominate the running game with Alvin Kamara back and leading the charge.
Then the pass rush finally shows some life and registers 3+ sacks on the day.
Score- 26-16 Saints win
I will be previewing and recapping of all the New Orleans Saints games this season on New Orleans Saints – Full10Yards
Please let me know your feedback on this article and the others throughout the season, I'm always looking to improve and add things that people want to read about!
I want to try and create as much of a UK Saints community as possible, so follow me on Twitter @SaintsReportUK, for much more Saints content and discussion.