After a bonkers week one victory against the Falcons. The Saints move on to another divisional foe, the Tampa Bay Buccaneers. Tom Brady leads the Bucs into the Superdome for the Saints home opener, with both teams 1-0.
I'm going to highlight 3 key matchups. who's playing and who's not? and of course my score prediction for the game.
Saints And Bucs Overview
If you'd told me heading into the 4th quarter of Saints Vs Falcons last week that the Saints would end up winning, I might have believed you. As let's be fair its perfectly believable that the Falcons would blow a 4th quarter lead. Where I wouldn't have believed you is if you'd told me the offense was the reason the Saints completed the comeback.
New Orleans looked completely disjointed for 3 quarters against Atlanta, the offense couldn't do anything either, other than Taysom Hill doing Taysom Hill things. The offense had no rhythm and really struggled to get anything going.
Until the 4th quarter. led by QB Jameis Winston, who completed 13 of 16 passes for 213 yards and two touchdowns. In the 3 quarters before that, Winston went only 10 of 18 for 56 yards. All his playmakers stepped up, with especially encouraging performances from Michael Thomas (after a sluggish first half) and free agent addition Jarvis Landry, who suddenly turned into an elite downfield playmaker.
Josh Norris on Twitter: "29 year old Jarvis Landry becoming a vertical playmaker feels unprecedented considering he had a 6.2 aDOT in the first 4 years of his career" / Twitter
If this version of the offense shows up for the majority of the season, then the whole league will be on notice that this Jameis Winston led team is coming and nobody is safe.
Consistency is key though and the Saints offense needs to prove this week that it can be really good but for more than 1 quarter.
The Bucs enter week 2, coming off a far different game. It all seemed fairly routine for them to beat the Cowboys. No dramatic 4th quarter comeback required. In fact, the Bucs were only behind for 3 minutes and 57 seconds in the whole game and cruised to a 19-3 victory.
The Bucs barely had to get out of 1st gear, they dominated a Cowboys offense that might have looked as bad as the Saints offense did, only the difference with the Cowboys wad they couldn't do anything for all 4 quarters. A lot of that comes down to the Bucs talent on defense.
The Bucs stifled the Cowboys passing attack with a mix of speed and aggression in the front 7 and versatility in the secondary, also great preparation as LB Devin White explained here.
Devin White reveals how easy it was for Bucs to figure out Cowboys game plan (thelandryhat.com)
The Bucs leaned on their running game with Leonard Fournette rushing for 127 yards, at 6 YPC. With Brady and the Bucs passing game doing what I needed to do to win the game.
This is a matchup the Saints have dominated since Brady arrived. Especially on defense. Brady in the 4 previous regular season games has been sacked 13 times, fumbled 3 times (lost 2) and been intercepted 9 times. Brady's Bucs have only averaged 16 points per game (PPG). That average jumps up 25 PPG when the Bucs visit the Superdome, compared to 1.5 PPG when they play at home.
Despite this being a landslide for the Saints since Brady arrived, for the New Orleans to push the record to 5-0, there are certain matchups that I think are key.
Key Matchups
Saints Pass Rush
The age old trop that you must be able to disrupt brady by rushing 4, is a tiresome narrative but, it is completely true and if you do Blitz It needs to be well timed and from a place Brady isn't expecting.
That last point is a challenge, Brady is in his 23rd NFL season (Much to his wife's dismay) he's seen everything at this point, there isn't much that surprises him. The Saints have managed to surprise him and keep him out of rhythm better than anyone during Brady's time in Tampa.
Without pressure, Brady will dice you up. New Orleans has done a great job at this previously. I mentioned earlier how many times the Saints have sacked Brady in their last 4 meetings (13). Which works out at 3.25 sacks per game, if you add in QB hits, then New Orleans have hit Brady on average, 10.75 times a game.
That is a lot of punishment on a QB in his mid-40's and that is one of the main reasons the Saints have had so much success in this matchup.
Now that context has been provided, let's take a look at how the Bucs are looking entering this game.
Their O-line is missing some key pieces, all-pro center Ryan Jensen is possibly out for the season and trusted vet LT Donavon Smith could also miss this game, even if he does play it's likely that he will be in some pain with is elbow. They also have a rookie 2nd rounder starting at LG, who allowed 3 pressures and 3 hurries week 1 Vs the Cowboys per PFF. It seems like the Bucs line can be exploited.
Brady will help by getting the ball out quickly, making it harder for the rush to get home but that does mean shots down the field might be harder for Brady to execute if he doesn't have time to let the play develop.
The Saints D-line struggled to create pressure week 1 Vs Atlanta, PFF chart the Saints as having 4 hurries and 1 QB hit in that game. That won't nearly cut it against Brady.
However, this matchup suits the Saints d-line much more. Last week the game plan was to keep contain and make sure there wasn't easy running lanes for Mariota to escape the pocket. That means the Saints rushers couldn't truly rush.
With Brady, there is no threat to run that means the Saints can pin their ears back and go after Brady. Which with the Bucs lesser o-line should be a receipt for success.
If the Saints are without Paulson Adebo for a second straight week, the Saints will need to pass rush to produce.
Saints Run Defense
Last week the Saints struggled against a very creative running game. Not just against a very mobile Marcus Mariota but Cordarrelle Patterson gashed them as well.
This week is a much more traditional running game, but a no less successful one. The Bucs ran the ball at will Vs the Cowboys in week 1.
If the Saints d-line, especially the interior struggle again this week it causes very significant issues to how the Saints want to defend Tampa.
Last season the Saints could stop the run in NICKEL, meaning they only had 2 LBs and 5 DBS on the field. This a huge advantage against a team like Tampa. It means that you have another capable defender against the pass. Rather than a slower less capable LB that Brady can exploit.
Last week against Atlanta, the Saints had to switch to their base defense (3LBs) to try and help stop the run.
If they have to do the same this week, it gives Brady a big matchup advantage. As good as Kaden Ellis has played from the SAM LB spot. You really don't want him on the field for significant snaps because Brady will move players around to isolate them on him or another LB, with 3 LBs on the field it's a lot easier to that.
Secondly if you can't stop the run, play-action starts to become a much more credible threat. Brady is a machine when running play-action. Last season Brady completed 96 passes from play-action for 1211 yards, 14 TDs and 2 interceptions good for a 115.4 passer rating and was successful in a small sample size week 1.
The Saints must go back to old ways this week where stopping the run is concerned, otherwise Brady will have a much easier time picking them apart.
The Shutdown Matchups
Marshon Lattimore Vs Mike Evans (if he plays, he will. they always do against the Saints) and Carlton Davis Vs Michael Thomas. These are 2 of the juiciest CB Vs WR matchups in the league. Not just because it's a matchup of 4 very good players, also because these players simply really don't like each other.
There's not holding back in these matchups and the difference between these CB/WR matchups compared to others is these CBs generally do travel. Lattimore and Davis try to matchup with Evans and Thomas on as many plays as possible.
For the most part, the CBs have had most of the success. See below from ESPN who give detail on just how much these players face off against each other.
Fantasy football 2022 Week 2 – Best and worst WR/CB matchups (espn.com)
For the Saints to win, coming out on the right side of these matchups will go a long way to achieving that.
State Of The Rosters
Time to review who will play and who will not and discuss some other key points to take from the final injury report (below).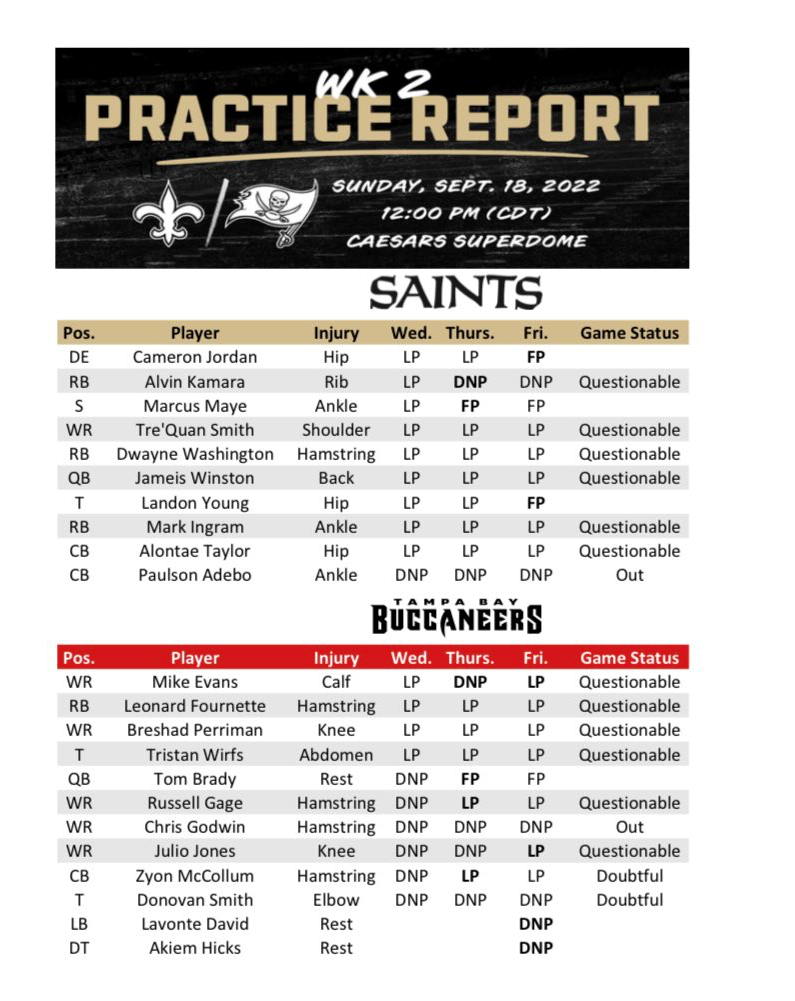 Saints– Alvin Kamara being listed as questionable is the biggest surprise here, after being limited earlier in the week, Kamara did not practice on Thursday or Friday, this is usually a sign that he would be ruled for Sunday. If he does its likely to be a limited role. I don't think not having Kamara is as big of a deal in this matchup compared to others. The Bucs usually play Kamara well and I think the Saints strength in this game is with the WR matchup.
I think not having Adebo for this game hurts more than Kamara, even with Chris Godwin not playing the Bucs still have plenty of receiving options. With Adebo back the Saints would have been been able to have their desired starting CBs on the outside, allowing Roby to move back into the slot, in a game where pure coverage skill is what the Saints require. Adebo being back would have allowed the Saints to field their best 3 cover corners.
In regards to the other players listed as 'questionable' there seems to be no concern over Jameis Winston and Mark Ingram's status after being limited all week. I am interested to see if Dwayne Washington or Tre'Quan Smith are active after missing last weeks game.
Bucs– Godwin being out was already pretty much a forgone conclusion. The biggest question entering this final injury report was Mike Evans and Julio Jones' statuses, after being limited on Wednesday, both were downgraded to DNP. This is usually a sign of a setback. After returning in a limited capacity on Friday, I expect them both to play, though it will be interesting to how healthy they are.
Donovan Smith being listed as doubtful, is interesting. Earlier in the week Todd Bowles said this was going to be a pain management thing for Smith. So this appears to be a true game time decision and a huge one at that. Marcus Davenport against a back up tackle yes please!!!.
Score Prediction
With the Saints d-line having a more static target to aim at this week I think we see a far more improved version of them and see some meaningful pressure on Brady. I especially look for Marcus Davenport to have a dominate game.
With Paulson Adebo out and a lot of new faces starting, I think the Saints secondary struggles a bit more than in previous games. I think Brady will make some big throws with a least a couple of 30+ yard completions but I think the Saints hold firm in the redzone to force some field goals.
Overall, this is of course a tough matchup, regardless of how well the Saints have done in previous meetings. Crucially I think the Saints passing offense is far better than it was in most of those games, and I think Winston and his crew of weapons do just enough in this one.
Score-28-26 Saints Win
I will be previewing and recapping of all the New Orleans Saints games this season on New Orleans Saints – Full10Yards
Please let me know your feedback on this article and the others throughout the season, I'm always looking to improve and add things that people want to read about!
I want to try and create as much of a UK Saints community as possible, so follow me on Twitter @SaintsReportUK, for much more Saints content and discussion.