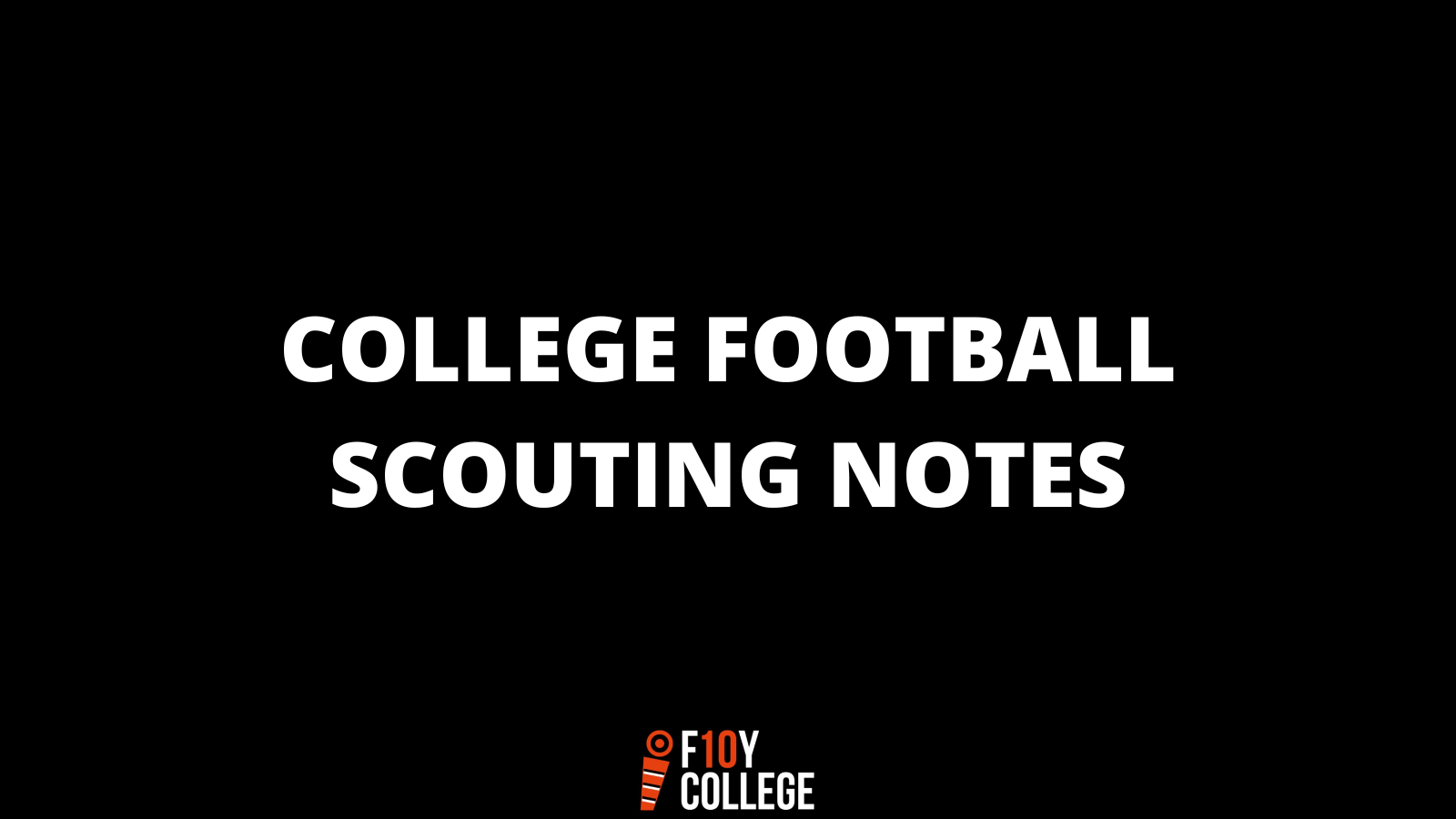 Here we are, back for another year of scouting notes from the world of college football.
Week 0 didn't throw up too much in excitable match ups, but there was clearly one game that had some decent prospects to look at, and that was the Cornhuskers and Wildcats going at it over in Dublin, Ireland.
The game itself had a little bit of everything, and certainly was a better watch than I was expecting. It did throw out a few impressive performances from some guys who were on my radar already, and a few who weren't, so let's get to them…
Nebraska
Not a great deal to get excited about Offensively for the Cornhuskers. QB Casey Thompson is an exciting college player, but I don't see high NFL traits with him. The off script plays with him are exciting, but unfortunately we have accuracy issues and some questionable decision making too. WR Trey Palmer, who is a transfer over from LSU, had some nice flashes but had a bad drop too. He looks like he could be productive in this offense as I think they'll try and use him more as a gadget guy than a pure receiver, and if he can clean the drops up he may open some scouts eyes.
TE Travis Vokolek was a factor in the passing game (5 Catches) but he struggled run blocking, often getting rag dolled by the Northwestern front seven. There's no denying his nice athletic profile, but we'll need to see him do better in the run game before we get too excited about him.
JUCO transfer RB Anthony Grant had an impressive debut. He ran hard and with authority, grinding out the tough yards but also broke a couple of nice gains too. Scored 2 TD's on the ground and looks like he'll become the feature back for Nebraska going forward.
The Offensive Line was terrible, but OC Trent Hixson held his own more often than not. He was the solid piece whilst everything else was crumbling around him and he looks like a nice replacement for round two draft pick Cam Jurgens. I had some good grades on him back in 2019 when he started at guard but he has barely played the last couple of years. Now he has a chance to put himself on the NFL radar, although he'll hope for more help from his fellow lineman than he got in this game to get noticed.
Defensively for the Cornhuskers there were a couple of guys who flashed and both are transfers from other power five schools. CB Tommi Hill really impressed me. He has great size, length and fluid movements and was a former 4-Star recruit who was at Arizona State last year. Only a true Sophomore, so this is a name for the 2024 draft cycle at the earliest, but if you liked Cam Taylor-Britt last year for the Cornhuskers, then this guy has the potential to be better than that.
EDGE Ochaun Mathis spent the last four years at TCU with mixed results, but always flashed some top end traits. He was good here, consistently setting a good edge against the run and flashed some nice pass rush moves. Hopefully he'll get a full season of top tape, as he has the size and athleticism of a top-100 player, he just needs to find consistency.
Lastly for the Cornhuskers was a guy who only played 20 snaps in the game and has just 183 total snaps in 4 seasons, but he looks like someone who definitely has next level ability. DT Stephon Wynn Jr. was a 4-star recruit who spent his previous seasons stuck behind many future NFL draft picks at Alabama. He's not listed as a starter for Nebraska, but if he can replicate the disruption he caused in 20 snaps in this game, then a bigger role in this defense should be his, as he looked every part of a well coached former top recruit. He's certainly one for the late round notebook.
Northwestern
The most surprising thing about the Wildcats' shock win was just how efficient their Offense looked. They aren't noted as a team to usually tune into when they have the ball, but perhaps 2022 will see scouts take a good look at some of these guys, especially as they have a pre-season first round calibre offensive tackle on their roster.
Let's start though with the QB Ryan Hilinski. He flashed as a Freshman at South Carolina in 2019 but ended up transferring to Northwestern before the 2021 season. He was a part time starter last year with very average grades but in this game we saw a lot of improvement and control. I don't think he's going to wow anyone with arm strength or athleticism, but what he did do was lead his team efficiently and take good care of the football. He's a former 4-star recruit, with a tragic family backstory, so he's someone who is easy to root for.
There were 2-star offensive performances for the Wildcats, and we'll start with that highly rated Lineman. OT Peter Skoronski was my OT3 going into the year, and although this appears to be a lesser offensive line class in general, he would still grade as a round 1-2 player for me right now. He is one of the most technically sound tackles in the nation, with good balance, strength and athleticism and all of those traits were on display here. Now he wasn't up against great Nebraska EDGE's but he took care of what was in front of him and that's all you can ask. He was excellent in the run game, getting great push off the snap and creating lanes which their running backs exploited. The only issues he had was with exposing his chest in pass protection and getting shunted back quickly. This only happened a few times but it was also noticeable on his 2021 tape too, and because he has shorter arms he has trouble recovering. There are many experts who think he should move inside to guard at the next level, and you can see why they think that, but I'd at least give him a chance to prove himself at tackle first, as he's too good not to get that opportunity for me.
RBs Evan Hull and Cam Porter had impressive games, with both sharing the workload almost evenly. Hull was the better player, with his powerful running style and nice hands out of the backfield. Porter is more explosive and has bigger play ability but also loses yardage too and had a bad fumble in this game as well. They will be a great one-two punch though going through the season and both have some NFL appeal to them.
The Wildcat defense got off to a pretty sloppy start, but once the new season nerves had gone they took over this game, and it was behind a stellar second half performance that the game was won. There were numerous stand out's but we'll start with my MVP of the game, and that is EDGE Adetomiwa Adebawore. He has graded well for me over the last couple of years and that carried on in this game. He looks longer than his listed 6'2 which probably means he has long arms and he certainly knows how to use them. He was constantly clearing his chest of offensive linemen with his strength and length and he was a constant menace for the Nebraska offensive tackles. They shifted him inside on third downs and he got to embarrass the interior guys too, so he has nice versatility which is vital in today's NFL. Now he'll face better Lineman than this going forward, but this is the benchmark he has set and if he can maintain it for the season we should be looking at round 3-4 draft range.
Northwestern had corner, Greg Newsome go in the first round of the 2021 NFL draft and the buzz is they have another possible first rounder in CB Cameron Mitchell. There's quite a few similarities between the pair of them, but I think Mitchell is behind Newsome and needs a really good year to get that first round talk going. Now when he was in press man coverage he was fantastic. He was strong at the snap, fluid in transitions and never allowed any separation for receivers. He had a late Interception whilst in great coverage illustrating this. The problems seem to arise when in off man or zone looks, as he seemed to struggle to process quickly the route concepts that were happening. He is also a bit disinterested in playing the run and that will annoy some teams. Obviously the NFL loves a great man corner, and this is where he excels, so he will be valuable come draft time, but I hope we can get a more all round polished corner by then to elevate his stock further. I do love an aggressive safety who isn't a total liability in coverage and
Northwestern have the perfect example of one in S Coco Azema. This guy wants to take your head off at every opportunity but this does lead to the odd missed tackle here and there. He has nice coverage ability, particularly if it's all in front of him, as he closes quickly to compete at the catch point or at worst wrap up tackles for minimal gains. He is one of those fiery leaders that every team needs and he's a guy I'll keep my eye on for the rest of the season.
---
By Keith Lucken – Follow Keith on Twitter @lordlucken