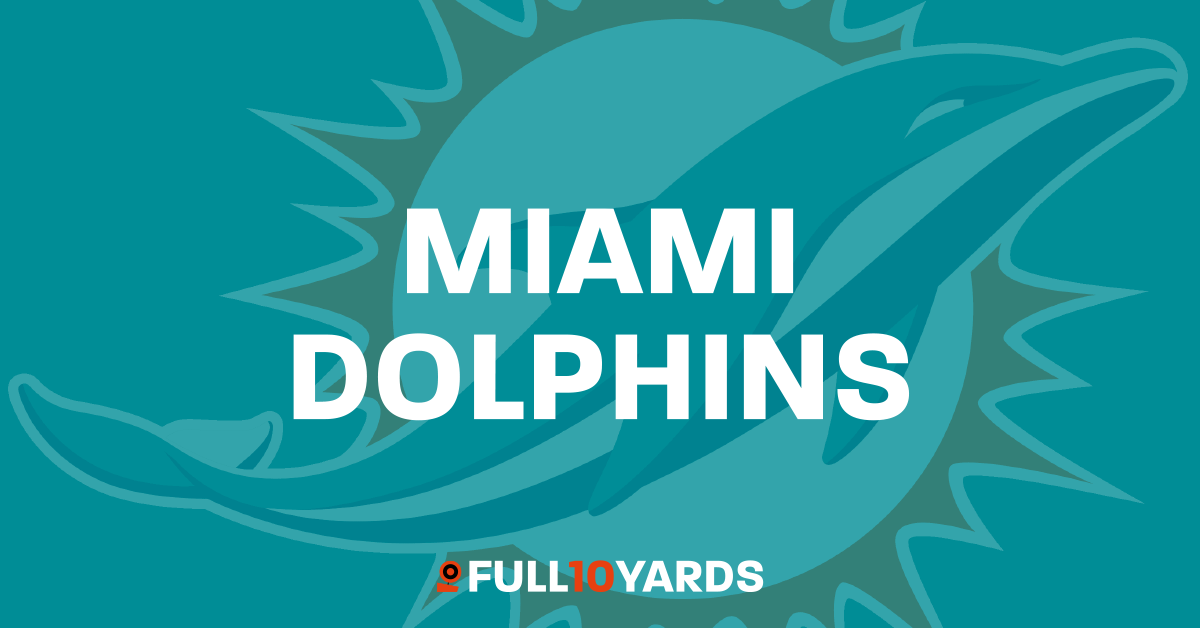 I think it's fair to say that Tua Tagovailoa hasn't had the best of starts to his NFL career. Before the injury he was seen as one of the best quarterback prospects since Andrew Luck, but things haven't quite worked out in the league.
That being said, I don't think there are many quarterbacks at all that would be able to succeed if they went through what the ex-Alabama QB has had to deal with over these past few years. Yes, he's been nothing more than average, but he's not had the chance to be anything else.
That could be set to change as Tua has been spectacular so far in Training Camp. The front office has surrounded the QB with a loaded offense, and there is a whole load less noise around him and the team, even with the Brady stuff, there's positivity there.
But before we delve further into why I believe the narrative is about to change, let's recap Tua's career so far.
Going into the 2019 college football season, Tua Tagovailoa was the expected number 1 overall pick in the 2020 draft. He was one of the biggest stars in college football after his come from behind 2018 (2017 season) National Championship win from the bench as a freshman. The following season he came second behind Kyler Murray in the Heismann voting and lost the Natty to Clemson, but did break Baker Mayfield's single-season FBS passer rating record of 199.4.
2019 looked set to be just as successful, before a shootout loss to LSU and a season-ending injury occurred in the space of 7 days. His season was ruined against Mississippi State on November 16th, the 10th Week of the CFB season, dislocating his hip and sustaining a posterior wall fracture, a very uncommon injury to suffer on the football field. A bad one.
After he was drafted in 2020 (5th overall), Tua was cleared to play medically in the summer but was expected to sit behind Ryan Fitzpatrick for the year. 2019 proved that the team were all in on him, and Tagovailoa had spent the offseason rehabbing rather than training. Some believed it was possible he'd never play football again, so it seemed right to take a slow approach. The lack of a pre-season in 2020 too meant he was very raw in terms of NFL snaps.
Joe Burrow of LSU, the quarterback who eventually went number one overall, started from the get-go for Cincinnati, whilst Justin Herbert took the opportunity to start that game vs Kansas City and ran with it, looking like a star as a rookie.
Tua's first snaps were in relief of Fitz in a blowout win vs the Jets in Week 6. Bar a situation like that, it seemed highly unlikely that Tua would play a game that season, especially with the Fins in the hunt for a playoff spot.
The team's bye week then followed, in which Tua was suddenly announced as the starter for the Week 8 game at home to the Rams, out of nowhere. After that, nothing really made sense with the team's handling of him.
It's expected that Brian Flores was pressured by Stephen Ross to start him, probably caused by how good Herbert looked. I think Ross was determined to prove that they didn't make a mistake by not drafting him by showing Tua off to the world, which was totally the wrong choice to make.
As we know, he didn't play anything like the Chargers QB, he wasn't awful, but didn't show off anything bar his ability to scramble when the pocket closed. It was hardly surprising, you could tell the training wheels were on. He also looked lighter and weaker, like he wasn't ready to play yet. Almost as if he spent the last 12 months recovering from a serious injury.
Flores' decision to pull him late in games when the offense was struggling to find a groove backfired massively. I admire the ambition to win, but ultimately that was probably the beginning of the end of his time in Miami. It created a huge media story of a lack of confidence, which just wouldn't have been there if he kept Tagovailoa in the games and let him learn.
2021 came around, and the team attempted some moves to help him succeed, but not many worked out. The very heavily RPO-based offense suited his skill set, but the decision to have not one, not two, but three guys in his ear relaying it to him was dumb. New England looks to be learning that at the moment.
Drafting Jaylen Waddle was also smart, reuniting Tua with one of his college receivers, without him the offense would have absolutely stunk last year. Since Tua has been in Miami, his receivers have created the least amount of separation in the entire league. Imagine how bad it would've been without Waddle.
There were however some absolute disasters too, the main one being the failure to address the offensive line. The unit got even worse after losing Ereck Flowers.
Don't forget Will Fuller too. Signing him would have been such a good idea, had he played. An odd finger injury kept the WR out virtually the whole year. All of this was going on whilst the Deshaun Watson situation was developing. Fuller's addition only sparked more rumours.
Surprise surprise, the line got the QB hurt at home to Buffalo in Week 2, derailing the season from the very start, missing three games, of which the team lost all three. Week 7, also against the Bills, saw Tua sustain an finger injury that put him out for the game against the Texans, the game after the trade deadline.
Baltimore were the next opponent after Houston, on TNF, a game where the quarterback, who lead you to a win at Foxborough, was active, but not starting, as a 'precaution.' What the hell was that? His finger was healed enough to be active. Heck, he was even on the golf course on the day of the game.
Jacoby Brissett hurt his knee just after the half, prompting Tua to go in and try and extend a 6-3 lead. The unit was moving better with Tagovailoa, so even when Brissett was cleared to go back into the game, Flores stuck with him. How odd.
These kinds of decisions just didn't make any sense, and they happened regularly. We know you didn't get on, but your replacement was the disaster that was Brissett, I thought you wanted to win Flores?
After the game, Tua started the rest of the season. The continuity, paired with a significantly better defensive performance saw six more wins follow, before a collapse from the offense on a win-and-in-game in the rain in Nashville. A bad game, towards the end of a season.
A season in which we saw improvement from Tua Tagovailoa in less than ideal circumstances. The Dolphins finally going back down to their level after beating up on bad teams down the stretch.
Anyway, enough of the old regime, bar the meddling owner trying to illegally pursue Tom Brady for the second time, the team looks in a much better place. It seems that GM Chris Grier is more fond of the now third-year signal caller than Flores was, together with Mike McDaniel they've given him everything he needs to succeed this offseason.
Bringing us to today, where confidence in Tua seems higher than ever.
It's almost as if you give a QB a relatively trouble-free offseason, with minimal noise, an upgraded offensive line, two more playmakers and a running game, he'd look pretty damn good in training camp.
I'm not surprised, he's got some very key attributes to be a successful QB in this league. The pocket presence is good, you really can't deny that. Tagovailoa knows exactly where to go under pressure, often stepping up into the pocket when it collapses. He needs to protect himself when scrambling though, trying to truck defenders isn't wise. Tua had the league's 5th best pressure to sack percentage last season at only 14.4% Brissett was 2% higher on that list and took just one less sack in 169 fewer snaps.
Then there's touch, the Dolphins #1 throws a very catchable ball, which is often very accurate, accuracy being his main strength. Tua is rarely off target, especially in short range. He's one of the best in the league at completing those quick throws. 67.8% of the quarterback's throws were completed last year, putting him right between two very similar players in Jimmy Garoppolo and Mac Jones.
Tua's going right into the offense that has seen Jimmy reach two NFC Championship Games and a Super Bowl. A QB-friendly system that creates opportunities off of play action thanks to an excellent run game. I'd argue that if he was in Josh McDaniels or Kyle Shanahan's offense last year, the young QB would've been better, than his former Alabama teammate and, certainly Garoppolo. The numbers are so similar, and consider situations.
His first year without rehabbing since the injury has helped, he's clearly worked on his arm strength and throws outside of the pocket. The two biggest criticisms of his game since his debut. Both elements have been poor so far in his NFL career. Local reporters have been impressed with the difference.
It feels like every single practice we're hearing about a 50-yard connection to one of his many receivers. His accuracy has shown up too, with many balls that are expected to be intercepted, ending up right at the chest of the intended target.
Tagovailoa's play has been recognised, being one of only five players to have worn the orange jersey twice since the start of OTA's. The orange jersey is awarded to the player with the best practice the previous day, by the coaching staff.
Elsewhere on the offense, the wall protecting him is looking much better. They've now got a veteran leader in Terron Armstead, to pair with Robert Hunt who's been the only acceptable lineman these past two years. Playing Conor Williams at C is odd, but if it allows you to get your best five out there then I guess it makes sense.
By the sounds of it, the run game has been the phase that's impressed the most though. Which is exactly what is needed in this offense, Chase Edmonds, who by the seems of things may be the feature back, has been impressing.
All of this should really help Tua, who I expect to have a much better season. I'm not expecting him to be Justin Herbert, Josh Allen, or Patrick Mahomes, but can he be Kirk Cousins? Absolutely. 3500 yards, 25 TD's and 10 INT'S or so seems entirely possible from what we've been hearing is going on in Training Camp.
Tua and the offense were the standout unit in Thursday's joint practice against the Buccanners. Everything that's happened so far on the lead-up to the season points towards a much improved year from the Fins' 3rd-year quarterback.
Our 2022 NFL Season Guide is now available to pre-order. With over 160 pages packed with previews, reviews and opinions from fans across the league and the UK, this is the comprehensive NFL UK fan guide written by NFL UK fans. Log on to www.full10yards.co.uk/guides/ and enter code FULL10 for 10% off your copy today.