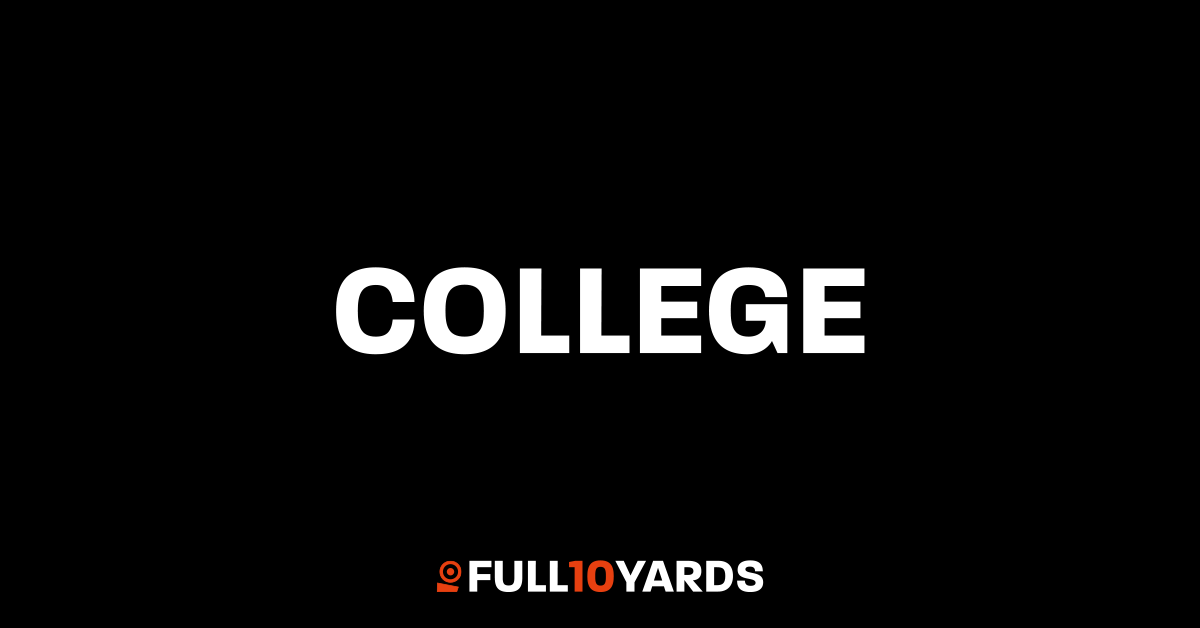 The college football season is almost upon us! It's been far too long and it cannot come soon enough! As our traditional curtain raiser article for the season it's time to get some preseason takes down on a page, perhaps only for us to look silly later on down the line, however, we do get a few excellent nuggets each year, and that's what we can hold up all year to show that we (kind of) know what we're talking about.
This year, we're going to split this up into two parts; today we'll talk teams and later this week, we'll get to the player takes… Let's get into it!
Ok, let's start off with the Power 5 division winners… Let's start at the top, which team is winning the SEC and why?
Andy – It's hard to look anywhere but Alabama in the SEC. Bryce Young should be dominant with a year under his belt and the addition of Jermaine Burton provides the star power we've grown accustomed to with the Crimson Tide's WR room. However, it feels like the SEC as a whole is stronger this year, the likes of Tennessee and South Carolina carry a real threat, as do the Aggies and Arkansas. Buckle up for a dog eat dog season.
Raj – 'Bama will win the SEC, and I don't think it will be close in all fairness. Georgia have been severely weakened defensively, Texas A&M look ordinary and a new dawn under Napier and Richardson awaits Florida.
Keith – I'll be different and go against Alabama, although my head says they'll win it. There are some holes on that Bama depth chart, noticeably the offensive line, so I'll say that Texas A&M beats them again this year to take the West and then defeats one of Georgia or Tennessee in the title game. A&M have had back to back insane recruiting classes, so I'm banking on those guys stepping in early and living up to their billing. On a side note, Ole Miss has put together some great pieces via the transfer portal, and if they were in the East instead, I'd have given them a shot to get to the title game.
Will – The toughest question when it comes to picking the SEC winner is why isn't it Alabama. You have an extremely well coached team that is entering the season with some of the best talent to begin with. Second year guys like Bryce Young, a Heisman winner, has a very impressive skill set and is looking to improve on what he did just a year ago. To follow that up you have a second Heisman candidate in Will Anderson. The talent in Alabama is still unmatched, and all the transfer portal has done is help them find just that with RB Jahmyr Gibbs and WR Jermaine Burton.
Lee – With Georgia losing so much talent, I feel like they'll regress a little bit, quite like the LSU in 2020 after their monumental title winning team, and that leaves the pathway clear for Alabama to take the SEC title for the 9th time in the Nick Saban era. They're just incredibly talented and also incredibly well-coached, and I cannot look past them for that reason.
Embed from Getty Images
Next up, let's head up north, what about the Big Ten and your reasons?
Andy – It'll all come down to the last game of the regular season when Michigan travels to Columbus to take on Ohio State. Despite having a lesser QB, I'm going to go with the Wolverines. With Blake Corum and Ronnie Bell well established as one of the better RB-WR tandems in college football I expect Jim Harbaugh's offense to take another step forward this year and I'll back them to go toe-to-toe with the Buckeyes and come out on top.
Raj – Ohio State's offense has the potential to put some serious numbers up this year, and I can't put it past them to reclaim their crown. Michigan will be there or thereabouts but Stroud, JSN (Jaxon Smith-Njigba) and Henderson will overpower and be too strong for the competition.
Keith – As usual the East have all the top talent (Ohio State, Michigan, Penn State and Michigan State) and I imagine all of those teams would beat the winner of the West (probably Wisconsin) in the title game.
It will probably all come down to that last regular season game between Ohio State and Michigan, and I'll take the Buckeyes to get revenge on the Wolverines and then go on and beat Wisconsin to claim another Big Ten title.
Another side note, Maryland will have a legit offense this year and will give a couple of the big boys a scare.
Will – When it is all said and done and the smoke settles in the Big Ten, we will see Ohio State on top. Michigan got to have their fun last year, but Ohio State has possibly the best quarterback in the nation, with the one of the best receivers in the nation, and most importantly some revenge on the horizon. After a disappointing end to last year, you go out and fix one of your biggest issues in signing Jim Knowles to fix your defense. On the bright side, it can only be better than last season, right? I expect it to be.
Lee – Ohio State are the best team in the Big Ten; they have the best quarterback, they have the most talent and unlike Michigan, whom they were finally usurped by last season, they've managed to retain a lot of their top-end talent aside from Chris Olave and Garrett Wilson. But replacing wide receivers is no problem for the Buckeyes! So I expect Ohio State to dominate.
Alright, so last year, we actually phrased this as who are Clemson playing in the ACC championship game… So we won't make the same mistake twice – Who is your ACC champion and why?
Andy – Clemson finished last season very strongly, despite the disappointing play of their QB. The Tigers' defense is utterly dominant in the ACC and it should continue to shut down most of their opposition in 2022. The only team that I can see running them close is Miami, who seem to have finally found a real star at signal caller in Tyler Van Dyke. But if DJ Uiagalelei can take a step forward, this Clemson team could return to the playoffs.
Raj – I'm all in on Tyler Van Dyke this year so I have to go Miami. As long as Zion Nelson can keep him upright, Cristobal will work his magic in Year 1 with TVD at the helm. Clemson were so bad last year that it will take a lot for them to rise back to the top especially is DJ Uiagalelei is at center. Boston College may be a sneaky contender if Flowers and Jurkovec can elevate the offense.
Keith – I think the ACC will be quite open this year. All the teams have some flaws, so it's who can patch their holes up best will win. I think Clemson will probably have too much in the Atlantic (mainly thanks to their defense), but I think the Coastal will be a great battle between Miami and Pitt.
I'll go against the grain and say Pittsburgh beats Miami on the road to win their Division, and then goes and upsets Clemson in the title game. I'm putting a lot of faith in Pitt QB Kedon Slovis here…..
Side note, I really like some of that Florida State roster, there's enough talent there to push Clemson but they have a really tough schedule.
Will – When Will Smith talked about south beach bringing the heat, he must have been referring to the 2022 Miami Hurricanes. I have complete confidence in Van Dyke and his ability to make not only college, but NFL throws. He has the arm to put that ball right where you want it. If you look at their in conferences losses, they were all decided by three or less points as well. Winning in the Coastal division will be a breeze, leaving their only competition to be Clemson. Despite losing Brent Venables, the defense will not be an issue, the issue lies within their quarterback DJ Uiagalelei who struggled mightily the year before. A young offensive line certainly did not help last season either. NC State is fraudulent, it is Miami's conference to lose.
Lee – I feel like I am going to continue to be pretty boring and go for the obvious candidates, I'm sticking with Clemson. I don't think this is a vintage Clemson team by any stretch of the imagination but the front 7 of the Tigers' defense is just too good! It is absolutely chock-full of elite players – Myles Murphy, Bryan Bresee, Trenton Simpson being the headliners and future top 15 draft picks. Yes, there will be question marks hanging over DJ Uiagalelei but with a pair of 5-star QBs breathing down his neck in Cade Klubnik and Hunter Johnson, I am almost certain that Dabo won't have the patience to stick with Uiagalelei if the offense is barely functional.
Alright, so on to the Big XII… Will Texas make any noise? Will Brent Venables' new era at Oklahoma start with a bang? Can Baylor defend their title, or will there be an outsider who makes a charge?
Andy – Texas should be firmly in the mix at the end of the season, they have genuine star power on offense with Quinn Ewers, Bijan Robinson and Xavier Worthy. However, their defense was far from impressive in 2021, ranking 100th in the country and giving up 57 points in a defeat to Kansas. I think that will cost them again in 2022, with both Baylor and Oklahoma having better records come December. Dillon Gabriel is the real deal, and the talent he has around him should be enough to bring a Big 12 title to Norman.
Raj – I'm a big Dillon Gabriel fan and barring injury, I fancy him to lead Oklahoma to the summit once again alongside star wide receiver Marvin Mims. It's already a make or break season for Steve Sarkisian at Texas, where all eyes will be on Ewers and Robinson to take the crown, however Oklahoma will ultimately pip them to the post.
Keith – I think this a four horse race, and all have legit chances. Oklahoma is the obvious choice, but I think we may see a transition year with them and their first time head coach Brent Venables. I like the consistency of both Oklahoma State and Baylor, but I'll say the (lone) star aligns and all that Offensive firepower that Texas have, gels immediately with big rewards.
Will – Despite everything that is going on, Oklahoma has got my vote. This will be an emotional lead team that has the perfect fuel to run on all season. Everything is new, but one thing that will be the same is expect Marvin Mims to produce. Venables will look to bring his defensive prowess to Oklahoma, which lost a few key starters like edge rusher Nik Bonitto and lineman Perrion Winfrey, but nonetheless they should see some improvement from the year before. Gabriel will be a nice fit in this new look Oklahoma offense as he already has history with their new offensive coordinator Jeff Lebby. Remember Texas, it is not your year. And sorry Baylor, I just do not see a repeat in your future.
Lee – I am entrenched in my position as anti-Texas now, after publicising my views for around 4 years now, so despite getting Quinn Ewers through the door, I think that the roster needs another season under Steve Sarkisian, so no, they're not back. Again.
My pick is that Baylor repeats. Dave Aranda has the Bears cooking and Baylor always has athletes on the field who will cause problems in a conference where defense is an afterthought. Andy wrote up their new guy under centre, Blake Shapen here and the front three has some great linemen, Siaki Ika and Gabe Hall in particular who need eyes on!
Embed from Getty Images
And finally, the soon-to-be-not Power 5 conference, the Pac-12? Who's taking the championship out west?
Andy – I know Lee will disagree here, but give me all of USC this season. Lincoln Riley has assembled a super team on offense, bringing in three new star receivers, a new tackle, numerous running backs and of course, Caleb Williams. Utah and Oregon are good, but I am excited to see USC blow everyone out of the water.
Raj – Top coach check, top QB check, loaded WR room check; that USC offense looks frightening and thus will lead Lincoln Riley to the title. They could rival Ohio State in being the scariest offense in college football and put up some insane stats this season. Utah will be there or thereabouts but USC look too powerful on paper.
Keith – Head says steady Utah will do enough to win the title, but my heart wants this USC experiment to work and create a new college football powerhouse. With both USC and UCLA bolting the conference soon, they will be targeted by the others, but I'll say Lincoln Riley's magic wand makes this offense scary good, and they'll have enough defense to get past whoever they meet in the title game.
Will – Utah has one of the most complete rosters in all of college football, and that is what will pave the way to another successful year for the Utes. This team gave Ohio State fits in their bowl game, and that is not something you should just shrug off. A team with an established system that is proving to work is one to be feared. This is easily one of the most efficient offenses in college football and it all begins in the trenches. This offensive line is one of the best of college football and it won't be very different in 2022. USC is their biggest challenge, hard not to buy into the hype, but give Lincoln Riley a year to do his thing and then we'll talk.
Lee – As much as I usually like to pump up Oregon here, Utah are the best team in the conference and therefore I can't see past them for the Pac-12 championship. It'll likely be another Utah vs. Oregon final, as I don't think the Ducks are miles away but aren't as rounded of a team as the Utes. This is about as talented of a Utah team as we've seen and Kyle Whittingham always has them well coached and up for any opponent, so again I can't see past Utah. Cam Rising will live up to his name and be rising up the draft boards this season.
Ok, Power 5 champions sorted, let's have a little look at the group of 5 very briefly before we get to playoff contenders – Who does everyone think will be the highest ranked group of 5 team come the end of the season?
Andy – Here's a bold choice for you, Colorado State. The Rams have hired former Nevada Head Coach, Jay Norvell, to give the programme a boost and he's brought a lot of talent with him. Highly rated QB, Clay Millen, has a big arm and a raw skill set that looks pretty similar to Carson Strong – if he can hit the ground running then there's no reason that CSU can't be a threat in 2022.
Raj – Jake Haener is one of my favorite QB's this year, so for that reason alone Fresno State get my vote. Haener has 1st round upside potential and has weapons in Jaelan Cropper and Josh Kelly of whom he both has familiarity with. Fresno State alumni Carr and Adams may inspire the 2022 team to recreate similar magic this year.
Keith – I have so many teams I could put here, but I'll go with Boise State as I think there is a chance they could end up unbeaten. They are favourites to win the Mountain West and their 2 toughest non conference opponents are Oregon State and BYU. This is a team without star names, but have 17 returning starters and that consistency gives them a shot to break the top 25.
Will – We all loved the Cincinnati story last year, it was awesome! It is now 2022, and my pick is UCF. This team had a ton of injuries in 2021 which really makes it tough to judge any progress that could have been made. If they really want to compete, then they need to figure out their QB situation, lucky for them they have a bit of a cushion thanks to their running backs Isaiah Bowser and Johnny Richardson. It will all come down to their matchup with the Bearcats to see who comes out on top.
Lee – Houston aren't being talked about enough. In the preseason top 25 coaches poll, there were two group of 5 programmes ranked – Cincinnatiat 22 and Houston at 25. Everyone was in love with Cincy last year, and rightly so, but we forget that the Cougars were pretty much neck and neck with Cincinnati last year. Senior QB Clayton Tune is flying under the radar somewhat and could be another riser when it comes to postseason draft talk.
Embed from Getty Images
Let's move forward to December and it's the end of the season, we're all arguing over playoff rankings and Twitter is awash with playoff expansion talk – Give me the 4 teams who are making the playoffs?
Andy – Alabama, USC, Oklahoma, Texas A&M
Raj – Ohio State, Alabama, Georgia, USC
Keith – Ohio State, Alabama, USC, Texas A&M
Will – Alabama, Utah, Ohio State, Georgia
Lee – Alabama, Ohio State, Utah and Georgia
And of those 4, who are the two facing off on January 9th at SoFi Stadium in the National Championship game, and who is celebrating under the ticker tape?
Andy – Oklahoma and Alabama, but wouldn't Oklahoma and USC be fun! The Crimson Tide should overpower the Sooners, and wrap up another successful season for Nick Saban.
Raj – Alabama versus Ohio State. The matchup will probably feature the top three picks in the 2022 draft in Anderson, Stroud and Young so what better way to shine then on the grandest stage of college football.
Keith – I really want an Ohio State/USC National Championship, as the Offensive firepower on show would be ridiculous, but I think USC may be a year away from getting to the big game. So I'll be boring and say Ohio State versus Alabama, with C.J Stroud just doing enough to beat Bama in what would be a very entertaining game.
Will – Alabama & Ohio State, because why wouldn't it? That Ohio State offense is just one you cannot get enough of, but we all know what wins a championship. Alabama will easily have the better defense, not a question. Which is why the tide will keep on rolling and Nick Saban ends another successful year with another National Championship under his belt.
Lee – I think I pick Ohio State or Alabama every year – This is my National Championship game and what an occasion it'll be!? The two QBs at the top of everyone's minds facing off, maybe it'll be billed as a battle for the number one pick as well. The media is going to be going bananas over this. I'll say that defense will prevail, so Alabama takes it.
That wraps up part 1 of our preseason takes, they're out there and as we all know the internet never forgets! Good luck with those takes gentlemen, I'm sure none of us will regret any of them!
---
Before you go! Check out our NFL Season Guide and grab a copy here.