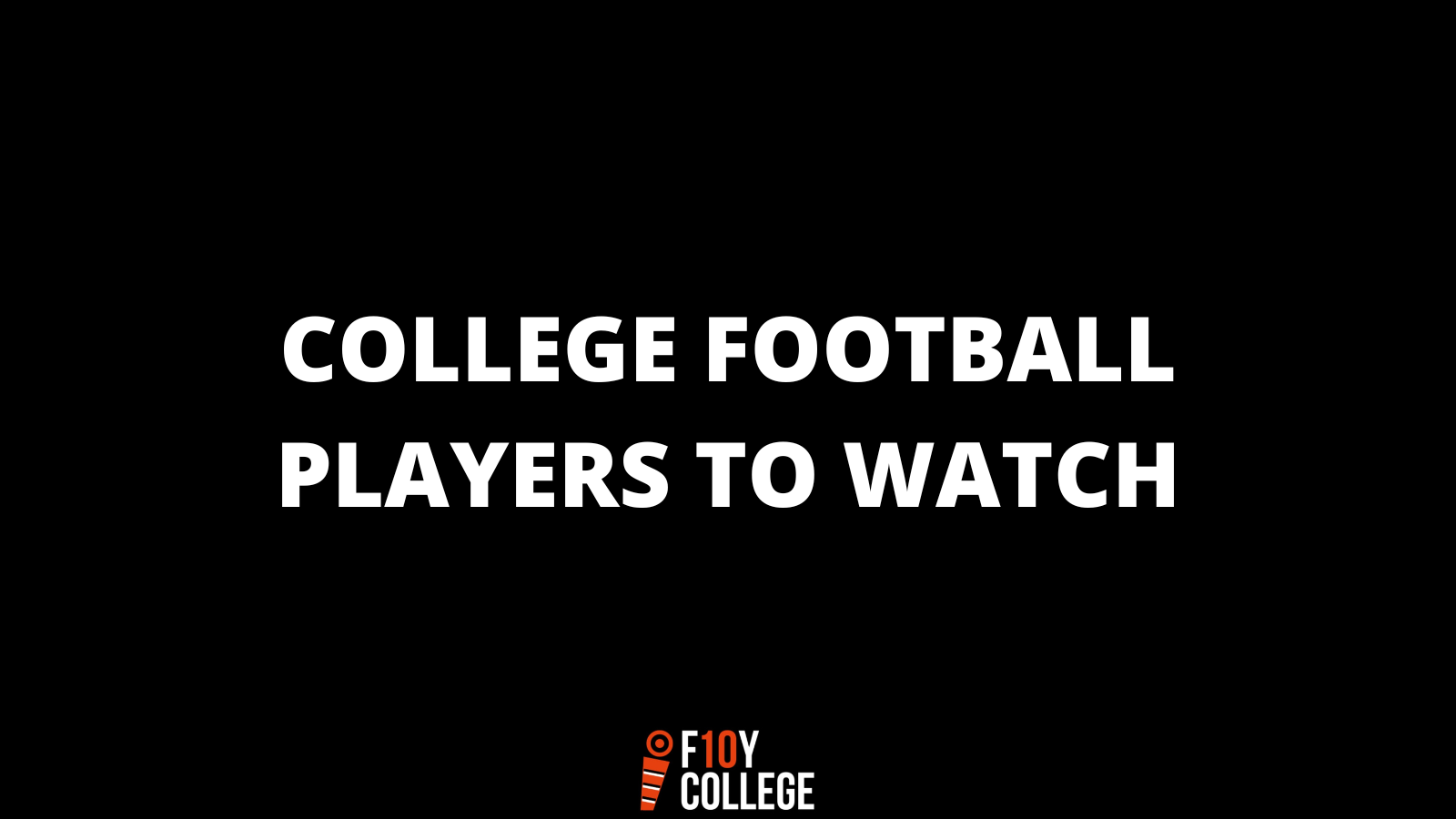 Welcome in to our Player to Watch series for week 2 of the college football season! This week we will be putting the spotlight on USC wide receiver, Jordan Addison.
Last week, I put Isaiah Foskey of Notre Dame under the microscope in the lead up to the college football game of the week as the Irish clashed with Ohio State (read that here).
This past week Jordan Addison suited up for his Trojans debut against Rice as Southern California ran out 66-14 winners, and he had five catches for 56 yards and a pair of scores – More of that game a little bit later on.
Today, we'll look into who Addison is, what makes him such a high-end receiver, and who Addison is going to be battling this week against Stanford.
So Jordan Addison, you may have heard of him before…
Addison measures up at 6', weighs in at 175lbs and is a former 4-star recruit out of Frederick, Maryland. Strangely, he wasn't recruited as much as you would have imagined considering he was a four year high school starter who played receiver, quarterback and defensive back in High School. When considering he averaged over 20 yards per reception and scored 8 touchdowns in his Senior season as well, it really does get quite curious.
Addison had offers from Virginia, South Carolina, East Carolina and Pittsburgh, with perhaps his best offer coming from Notre Dame. But that's it, which strikes me as odd considering what a star he's become as he moves into his Junior season.
Last season whilst at Pittsburgh, Addison was one of the best receivers in college football, bringing in 100 catches for 1,593 yards (the fourth most in college football) whilst finding the end zone 18 times (17 receptions and 1 rushing) which was the most in college football. So there was no wonder why there were a number of programmes linked to him once it was clear he was going to be heading to the transfer portal.
So we clearly have a super-talented receiver here and he should be in for a monster season in Lincoln Riley's offense, but how does he do it?
After spending time watching Jordan Addison's film from last year, I really see a complete receiver at the collegiate level and I was super impressed with the majority of what I saw.
Addison is a complete receiver in terms of the ways in which he can be used and the ways he can hurt an opponent. He can line up inside or outside, he can get open in short and intermediate areas with his route running ability, but he's also got the speed and the understanding of tempo to win in the deep part of the field. Equally, he's a player who an offensive coordinator can give manufactured touches to on plays like bubble screens and hand offs, just to see what he can create for himself with his ability to make a defender miss.
So the first couple of clips are what I consider the bread and butter for Addison; both clips show his awareness and ability to find soft spots in the intermediate areas of th field.
This first clip from Pittsburgh's visit to Tennessee last year shows the understanding of tempo that I mentioned…
He doesn't sprint out of his release, before stuttering on his cut which is made on the blindside of the linebacker and freezes the safety from triggering downhill on him. The cut is sharp and the reception is made.
This next clip from Pittsburgh's game at home against Clemson. Addison plays through the traffic – Something that'll be important in the NFL – And once again, finds the open grass in which to make the catch, and what a lovely catch it was too with strong hands extending away from the body.
Next up, and the penultimate clip I want to show you in this section, is to show you the threat to make plays in the deeper portion of the defense. I don't feel like Clemson respects his ability to get behind them here. #24 trails but not close enough and the Tigers pay by giving up 6 points. I love the concentration that this catch would have taken, a pressure moment with a defender close by, and it was no problem at all.
Ok and lastly, I actually want to show you a really quick clip of one of the two touchdowns that Addison scored this past weekend. This route is one we see from Cooper Kupp and Hunter Renfrow a lot in the NFL, the whip route. This shows that you don't need to be a hulking receiver to be effective in the red zone.
Clearly Addison is one of the better wide receivers in the college ranks, but how will this translate into the NFL?
It's fairly clear to see that Addison is going to be undersized entering the NFL, and even if he packs on 10lbs or so, he'll still be undersized. Even then, given his slight frame I don't know if he could a) gain much more than that and b) benefit from the increased muscle without harming his speed and shiftiness that make him the player that he is.
Does this mean he's destined to be a slot-only receiver in the NFL? Potentially, yes. Addison's skillset isn't one that is going to win with physicality at the catch point against longer and taller outside corners, nor does he have the elite long speed of some smaller outside receivers such as Tyler Lockett or Hollywood Brown.
Does this harm his draft value though? I don't actually feel like it will after the 2022 season and here's why – Cooper Kupp just won the triple crown playing a lot of snaps from the slot and this season Justin Jefferson is going to be playing that Cooper Kupp role in Kevin O'Connell's offense, O'Connell being the former Rams Offensive Coordinator. I feel like Jefferson is going to be put in a position where come the end of the season there could be a lot of fans around the league saying that he is the best receiver in the NFL, again, mostly working out of the slot.
So slot receivers are super-valuable to NFL offenses these days, especially when they can block as well, which is where Addison comes back in.
Ok, look, I can't say that he's the finished article when it comes to blocking, because he's not, he's 175lbs however he is willing and he'll go after defensive backs when tasked to! And maybe, this is when those extra 5-10lbs that he can add once in an NFL weight programme can come in handy.
So as much as a team wouldn't be drafting a big, X-receiver who can run down the field and jump over guys, it's also not the early 2000's anymore and there is definitely a place for these kinds of guys be be really valuable to their teams and be a big success.
Here's a little taste of that willingness…
Anyway, enough of the NFL talk, what about this weekend against Stanford?
This week USC head to Northern California to face Stanford, who opened up their season with a win against Colgate 41-10, so both teams will be looking to move to 2-0 in their first conference clash of the year.
Stanford's most talented defensive back in Kyu Blu Kelly, a Senior corner who has very similar dimensions to Jordan Addison at 6'1 and 190lbs. However, that seems to be where the similarities end, and that contrast of styles could lead to this being a very intriguing match up.
Kelly is a physical player who has that competitive fire that you like to see in number one corner who was great against Drake London when these two teams played each other last year, however, Drake London is a different proposition to Jordan Addison, and Addison may ask him questions that he's less comfortable in answering with the shiftiness shown above.
Will Kelly be able to clamp down and physically overwhelm Addison or will the USC man prevail and be able to run away from his guy more often than not? Either way it's another great matchup between two highly-touted draft prospects and well worth tuning in to.
So in conclusion…
Jordan Addison and the USC offense are going to be a fun watch all season long and given that Oregon and Utah are already 0-1 after tough opening games, the Trojans are carrying the hopes of the conference with regards to the college football playoff (no pressure, guys).
Addison is going to be a monster in Riley's system which will scheme him open and give him opportunities to make plays in natural and manufactured ways, so after a solid yardage total in week 1, watch out for him growing into the offense as he gains further experience in it.
Another 1,000+ yards is surely on the cards and I'll be watching him add to it against Power-5 and conference competition in the early hours of Sunday morning and I hope that you will too.
---
Check back next Friday for the next instalment of the series – I have my eyes on a certain quarterback that many people are excited about.
Follow Lee on Twitter @Wakefield90