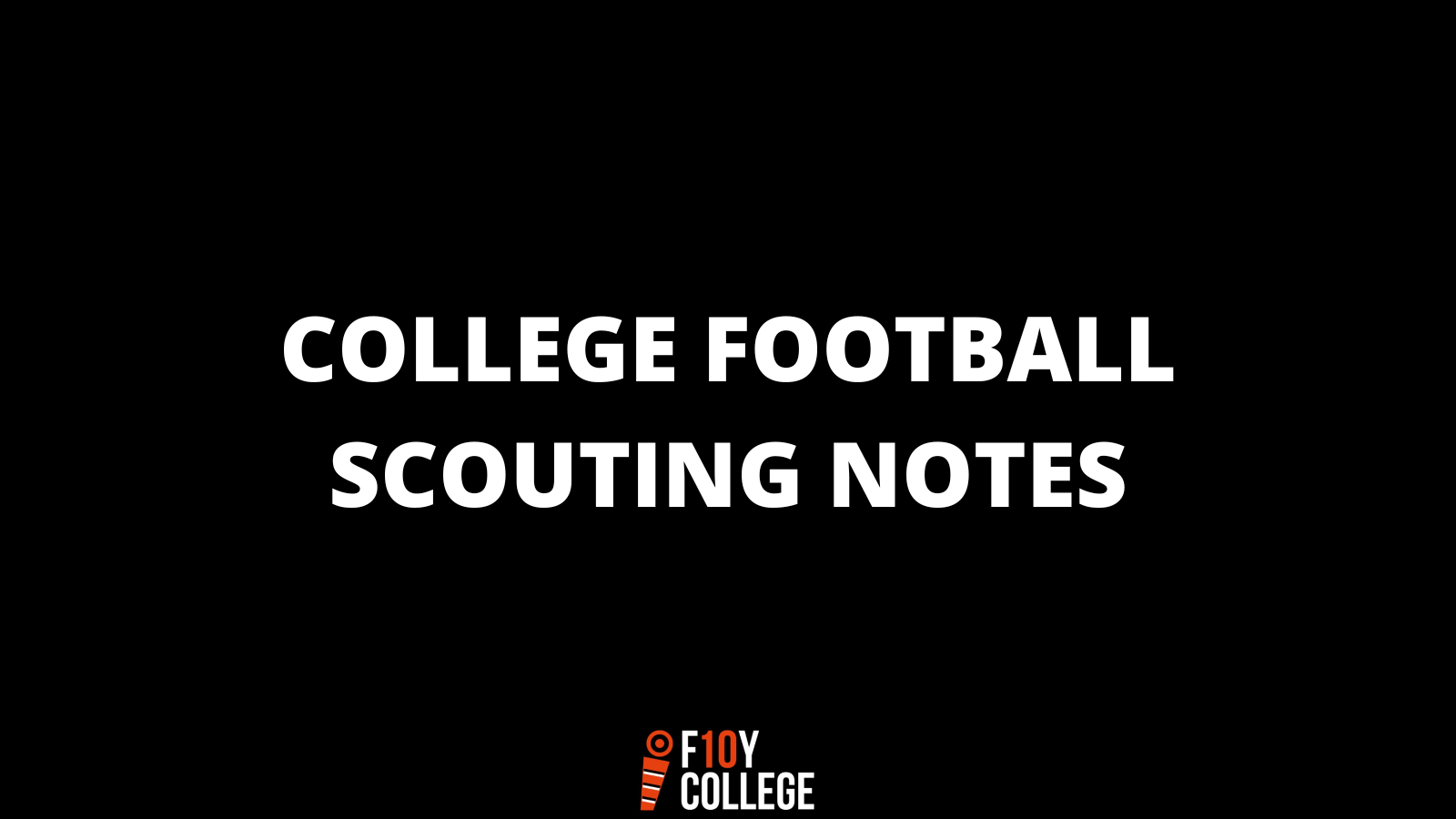 This was the biggest match up of the week 1 slate, and from a scouting perspective this game was loaded with high end prospects. Both teams struggled with early season rustiness but Ohio State put together a strong second half to see off the Irish 21-10. I've got a few notes for all of you on how all the top players did and throw in a couple of guys who surprised me too. We'll start with the victorious Buckeyes…
Ohio State
All eyes were on potential number 1 overall pick Quarterback C.J Stroud and star Wide Receiver Jaxon Smith-Njigba (both of whom made our Preseason All-Conference team), but unfortunately we lost Smith-Njigba early in the first quarter to a hamstring problem. He did come back later in the half but clearly wasn't right and was left on the sidelines after that.
The initial report is he'll miss a couple of weeks, which isn't a disaster for him, especially as those games will be against Arkansas State and Toledo.
Stroud had a difficult first half, with Notre Dame containing him well and then losing his top target, you could see him becoming frustrated. He was totally different in the second half and looked much more like his usual self, taking control of the offense and improvising when needed. This was a big early test for him and he showed he could cope with in-game adjustments and dealing with adversity well.
With Smith-Njigba out Ohio State needed some pass catchers to step up and two did in Wide Recievers Marvin Harrison Jr. and Emeka Egbuka. Harrison looks tall and lengthy and made a couple of nice key catches when needed. Obviously the pedigree is there with his Dad (former Colts legend, Marvin Harrison Sr.) being a Hall of Famer so there will be a lot of expectation on his shoulders going forward, but this was a nice start for him.
Egbuka was Stroud's top target in the game and he looked very comfortable in that role. He wasn't used to stretch the field, as they had him running shallow routes and picking up boundary work, but he looked smooth in space and displayed some nice safe hands. These two will become the focal point of the passing attack whilst JSN is out, and it appears to be in pretty good hands, pun intended…
The Offensive Line wasn't very good last year, although they received plenty of hype. This year's version seemed to have some question marks, but on the first showing of the season, against a top ten quality team, they came through with flying colours. I'm really high on Offensive Tackle Paris Johnson Jr. who has moved over from guard to take the coveted left tackle position and he had a nice debut there. He did get beat on the outside a couple of times in pass protection, but considering the level of opponent and the new position switch, he handled himself very well and this will be the benchmark he's set for the rest of the year. Right tackle Dawand Jones graded as the best Lineman for me on the day. Jones is absolutely massive (6'8, 350lbs) but plays with much better agility than you'd expect for someone that size. This was a big test and he was dominant, particularly in pass protection, which again for a man that huge is a big arrow upwards. He has the ability to be an Orlando Brown type and that's pretty high praise.
I also have offensive guard Matthew Jones graded highly on last year's games watched and he enjoyed a good start to the season here too. An under the radar guy now, but if this offensive line gels like I think they can, he will move up boards.
Defensively, Ohio State had Notre Dame's number, all bar one big pass play in the first quarter. There were plenty of stand out performances on all three levels of the defense but we'll start with Safety Ronnie Hickman. Hickman spends most of his time in the box and is a very aggressive run filler, flying downhill to hit runners. For all his aggressiveness he is a sound tackler too, which isn't a thing you always see. He has good size, quick feet and this is his second year as a starter. He graded pretty well for me last year, so he is definitely on my radar now.
Linebacker Tommy Eichenberg really impressed me with his violent style of play. He was consistently around the ball and like Hickman is a fantastic tackler. He only started four games last year and didn't grade great for me, but this is an impressive start and I'll certainly be keeping my eye on him going forward.
His partner in crime in the middle of the defense is former running back turned Linebacker Steele Chambers. He looks super athletic, which is not surprising given his previous position, and you'd expect him to get better and better with the more reps he gets in his new role. He will be an intriguing player if he does declare for the 2023 NFL Draft.
Defensive Tackle Michael Hall, who is not draft eligible, had some real standout flashes here. He was quick off the snap, had strong hands and showed some nice ability to work in space. They lined him up all along the defensive line and he had success wherever he went. One for the future for sure, but certainly a name worth noting.
Notre Dame
I'm sure the offensive game plan for the Irish was to grind the clock and keep that explosive Ohio State offense off the field, which to a certain extent they did, but it didn't make for exciting viewing. The star attraction for Notre Dame offensively is Tight End Michael Mayer, who most consider TE1 and a first round lock. This game certainly won't go down as one to show scouts as he was largely ineffective, only showcasing his great hands on one catch that he plucked out of the air. Even on that play he ended up fumbling and was lucky the ball bounced straight back to him. Ohio State stuck cornerback Cameron Brown on him all game, and this really limited his effectiveness as a receiver, and will surely be copied by other teams they face going forward. How he deals with this kind of attention will be interesting to see as the season goes on.
Notre Dame defensively in the first half were excellent, never allowing Stroud time to settle and limiting his off script plays. The second half was a different story though and the Irish were exposed, particularly at cornerback, where one guy really struggled.
I was quite high on Cornerback Cam Hart going into this season but he had a bit of a shocker here. He is a big corner at 6'3, 200lbs and whilst the size is impressive he looked very clunky in transitions and really struggled locating the ball when he did get in position. He gave up a touchdown and had a pass interference call against him, and he was targeted often by the Buckeyes who had obviously singled him out as a weak link. This game will hurt him, but he has size and length you can't teach, which means he'll still be highly regarded in the NFL world.
The biggest name for the Irish defensively is EDGE Isaiah Foskey. Notre Dame used him all over the place last year, which was frustrating for the evaluation process as we didn't get to see him all the time in what will be his NFL position. Off of what we saw in this game, it looks like the Irish have ditched that plan and are exclusively using him as a pure EDGE. Now while that's good for us, it wasn't so good for Foskey, who struggled to have any type of influence on the game and was limited to just one pressure. The two offensive tackles from Ohio State that he went up against could both be top 50 players come draft time, so this isn't doom and gloom yet, but we need a good bounce back game or two, as this will be a talented EDGE group come draft time, and he needs to keep his name in that first or second tier of guys.
Safety Brandon Joseph came over from Northwestern as a high level transfer, albeit coming off a disappointing Sophomore campaign with the Wildcats. He had a good solid debut here looking strong in the tackle, which was a weakness on last year's tape, and limiting the effectiveness of the big plays over the middle, which is a staple of the Buckeyes offense. The one play he wasn't roaming the backend they blitzed him, and Stroud threw right behind him, exploiting the single coverage he left behind for a Touchdown. Not his fault at all, just a good demonstration of C.J Stroud's understanding of the game. 
---
By Keith Lucken, follow Kieth on Twittter @LordLucken