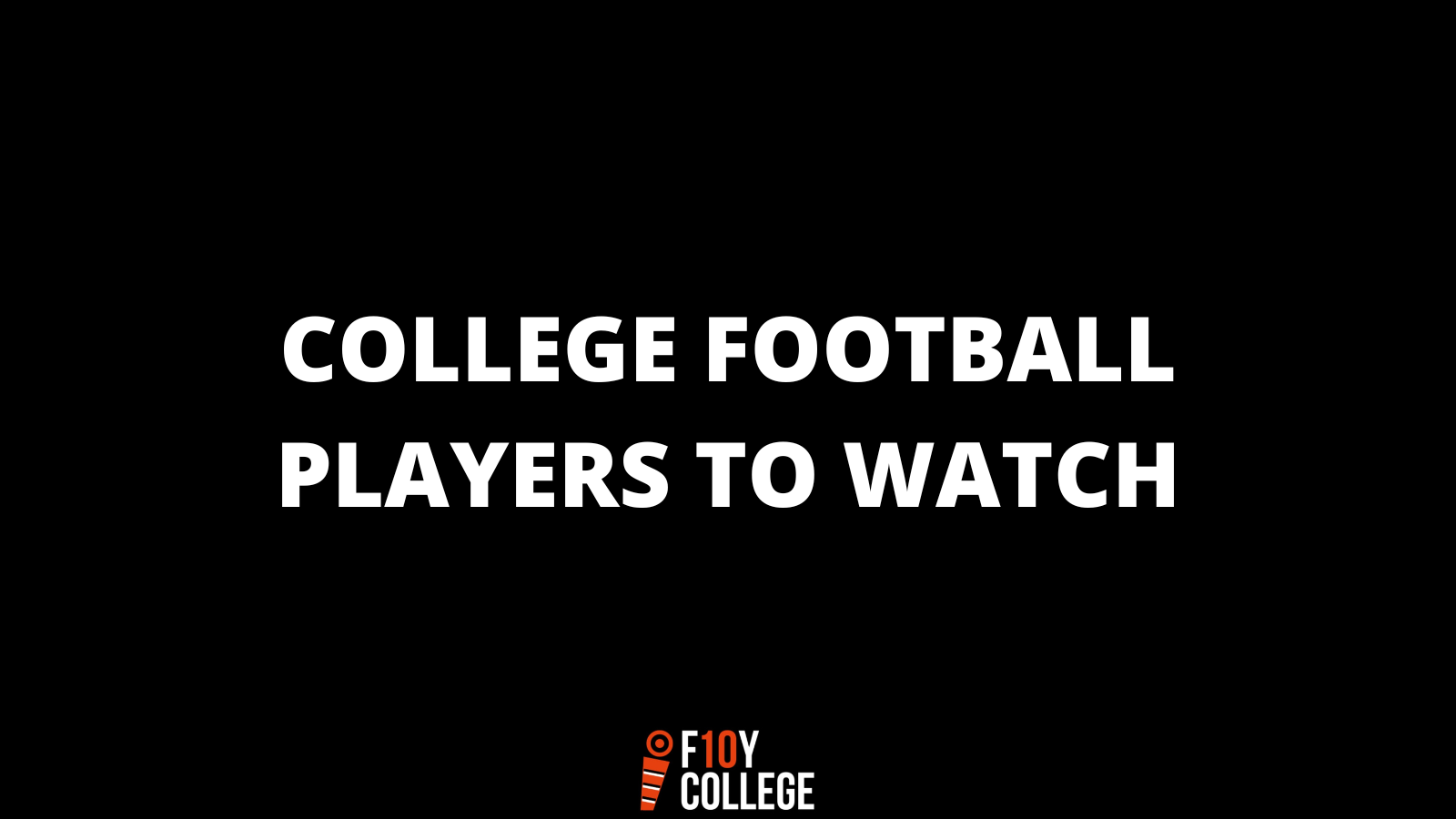 Welcome back to our Player of the Week space for a third week, here on the Full 10 Yards College Football staff, we seem enamoured with ACC passers, with Jake covering Malik Cunningham of Louisville recently, adding to his thoughts on UNC's first year QB, Drake Maye.
In this column so far, I've given you my thoughts on Isaiah Foskey and Jordan Addison, but this week I am shining the spotlight on Miami quarterback, Tyler Van Dyke. A player that my colleague Raj is super high on, as you can hear here.
Van Dyke has had a decent enough start to the season, albeit Miami have played two out of conference opponents who are way below the level of the ACC, beating Bethune-Cookman 70-13 and followed that up this past weekend with a 30-7 win against Southern Mississippi.
Van Dyke has thrown for 454 yards on 33 completions with 3 scores and an interception so far. No bad, but tougher games are ahead, especially with Texas A&M next up!
Anyway, let's find out who Tyler Van Dyke is…
Van Dyke was a highly rated and highly recruited high school prospect out of Connecticut, rated as four-star QB with a plethora of offers from Power-5 schools from all over the map. Michigan, UCLA, Wisconsin and NC State, the highlights alongside Miami, in a group of around 20 offers.
A Redshirt Sophomore who stands at 6'4 and 224lbs – So great measurements for a quarterback in today's NFL – and he made his Miami debut in 2020 against Florida and played a second game that season against UNC. However it was 2021 when Van Dyke really burst on to the scene.
Taking over from D'Eriq King after 2 and a bit games due to injury, Van Dyke played the rest of the season throwing for 2,931 yards, 25 touchdowns and only threw the ball to the other team on six occasions. The 2021 season also included an ending in which Van Dyke threw for over 300 yards in each of the final six games, which for anybody's first batch of starts in college football, shows strong promise for the future, especially considering Miami was 5-1 throughout those final six.
So what kind of quarterback do we have here and what makes him so highly rated?
After diving into the film this week, it's clear to see that Tyler Van Dyke has some NFL type attributes that will make him an attractive draft prospect in the next year, or maybe two depending on when he declares. And what's more is that I feel that some of the attributes that he has fit the modern NFL as well, so we have a player who will fit the league.
Let's start with the first thing that jumps off the page, which is his arm talent. Think of all of the best QBs in the league right now; Josh Allen, Patrick Mahomes, Justin Herbert… They can all hit throws at all three levels of the field and they can fit them into tight windows too, well, so can Van Dyke.
Apologies this week – There is a lack of All-22 available for Tyler Van Dyke so it's all broadcast film, let's start with the opening game this year against Bethune-Cookman.
Despite the view we can see the receiver (#8) at the bottom of the screen we can see that this is a 10 yard out that is being run on the left (field) side of the screen, Van Dyke is on the right (boundary) side hash and has absolutely no issues making, and with a good amount of zip on the ball.
Here's a second example, also from the opener; Van Dyke once again throws to the wide side of the field, but what I like about this is that he doesn't need to muscle it in there, and this is a longer throw than my first example in terms of air yards. This play has the kind of high-low read that an NFL team would be expecting from any starting QB too, and it's executed really nicely with a long pass which with finesse.
This next clip is going to mesh together that finesse with another great trait that I saw from Van Dyke this week – This ability to hang in the pocket and deliver passes even with pressure in his face. This one in from the NC State game last year.
Tyler shows that he's not scared by a big body and flailing arms coming towards him – He lofts this one up there and allows the receiver to get underneath it for a score. I accept that the corner doesn't get his head around and could have defended this better but still, it's another example of the variance that Van Dyke can put on his throws.
Ok so we can see that he's able to quarterback from the pocket and he's got a more than decent arm, so let's give an example of how he can navigate the pocket. Don't get me wrong, Van Dyke isn't a statue in there, he can escape a crumbling pocket but he isn't a mobile QB.
This is a nice example of the kind of pocket movement and awareness that he can show, not always but we're talking about a young guy here. This is against Southern Mississippi from this past weekend. A nice example of clean footwork on the 5 step drop, which he does with urgency and purpose, he slides to his right, and then up in the pocket and sidesteps the defender before delivering the pass. That's pretty advanced stuff, keeping eyes downfield and keeping poised like that.
The final positive thing I want to mention is how he's going to fit into the modern NFL with his proficiency in the quick game, using RPO playing to his advantage and play-action in general. I feel like this is a big strength of his and will make him a sought after player when he comes out.
Check out how fast this ball is out against NC State. This is NFL stuff again, and will have some teams looking at this and thinking that they could work with this guy.
As a side note, the pass-catcher here (#85) is Will Mallory, one of the top tight ends in the draft class. Well worth keeping an eye on, and the next clip also involves him catching a pass…
This is so nice. Again, the sort of play that is seen on Sundays. Mallory is showing his versatility playing some H-back here, he leaks out on play-action and we can add some pocket moving stuff in here for Van Dyke which shows he's fine throwing on the move for an easy conversion on what was 3rd and 1. This kind of concept can be used in the red zone too, so it adds another layer to Van Dyke's game since he's so comfortable doing it.
And the final clip on the quick game before I show you one bad clip.
This is a quintessential RPO play here against Pittsburgh last season and the sort of things that some NFL teams are incorporating in their offenses up and down the league nowadays. It's easy money and easy yardage when done correctly and the QB makes a good decision.
Overall I believe there are a tonne of positives right now and a lot of reasons to be excited about Tyler Van Dyke – You feel like there's a but coming don't you? And there is…
But, there is one aspect of his play that kind of stands out, and it's not surprising at all giving that he's 11 starts into his college career.
Van Dyke isn't being asked to read the whole field and he doesn't go through his progressions at all at times, and on some plays he only has two reads to go through, as the play is designed to be a half-field read.
One example being the second clip above on the out route that he hits – There are only receivers on one side of the field and everyone running a route is moving vertically or to the right and the offensive line walls off any backside pressure. I saw this a lot and there's not a lot of head movement at all, which to me, right now, isn't a huge deal. However, he can't go into the NFL when the Hurricanes' offense doesn't ask him to carry out full field reads and execute concepts where he has to read the whole defense. You can get away with it for a few games, but NFL defenses will learn your tendencies and pull pressure on where you don't like it quickly.
It also causes issues in college – This clip is of the interception that he threw this week against Southern Mississippi.
On his play, Van Dyke does go through his reads, you can see that he starts with the left side of the field but quickly moves on, across the field to the right – ending with the high-low read with the tight end underneath and receiver over the top.
There's a hitch and a hesitation, and not a lot of head movement to deceive the defenders to that side of the field. It's not a terrible throw but timing on out breakers is so important and the mixture of hesitation and telegraphing the throw with his eyes really costs him here.
Not terminal but something to work on throughout the season.
So we can see the strong points – Is he going to be playing on Sundays next year and what kind of draft range are we looking at?
I feel that Tyler Van Dyke is a talented QB who has time on his side. He has the physical tools and enough evidence of advanced aspects of his game having a high enough ceiling to warrant an early draft selection.
However, there are enough things about his play and the offense that would give me pause. Right now, I have a mid-to-late second round grade on Van Dyke, which is a very respectful grade, especially considering his inexperience.
He's one to watch throughout the season. I will be looking at how much more the Miami coaching staff is placing on his plate and how he is responding to the increased demands as time goes on. If he responds well and Miami has a good year, then I would be happy for Van Dyke to capitalise on a good season and head to the NFL.
Although, if that isn't the case, he does have time on his side with him having so much more eligibility remaining. What would he rather, get drafted in the second round and maybe enter the NFL undercooked, in a draft class where Bryce Young and CJ Stroud are going to get all the attention?
Or wait a year and maybe be at that level where he is being talked up as one of the better QBs in the class? Food for thought, for sure.
So looking ahead to this weekend?
As mentioned above, it is Texas A&M this week for the Hurricanes, and they are a wounded beast at the moment.
Fresh off their embarrassing loss to Appalachian State, the Aggies will be playing with some extra fire in their bellies, I am sure, and won't make it easy for Van Dyke to play his game and serve up another defeat and make it back-to-back home losses.
The star of the show on the Aggie's defense is defensive back, Antonio Johnson. A player who can affect the game in multiple ways and who you can hear me rate very highly in our Summer Scouting podcast on linebackers and safeties here.
Johnson has had a nice start to the season and is the leading tackler through two games with 17. He has also recorded a sack and a tackle for loss as well, so his strength in coming downhill and being aggressive has been on display already this year.
Not one for huge interceptions so Van Dyke won't have to avoid him too much when throwing downfield but Johnson might be sent on a blitz or two by defensive coordinator, Mike Elko.
Elsewhere on defense, Freshman Edge LT Overton already has a sack in his early career as part of the rotation and Senior safety, Demani Richardson will be looking to make life difficult for the young passer.
So in conclusion…
There is no doubt that Van Dyke is a talented passer and should be on everyone's watch list moving throughout the season, especially as his competition heats up, starting his week against SEC competition.
Should he be thinking about entering the NFL after this year? Well, that's a question that he can answer throughout the season. If he does pour on another loss for the Aggies then tickets for the hype train will surely be selling quickly.
---
By Lee Wakefield – Follow Lee on Twitter @Wakefield90