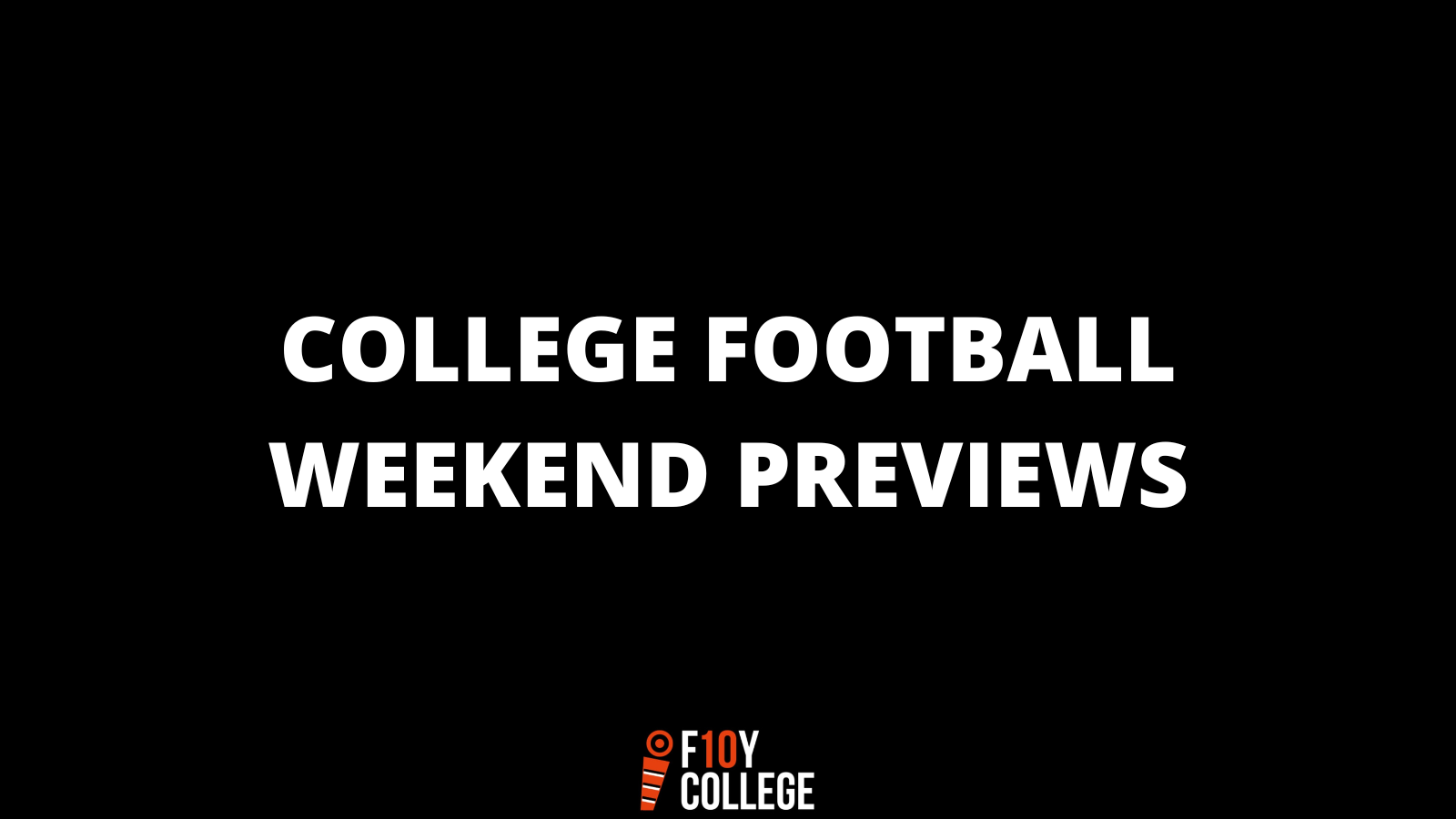 It's finally here folks, the college football season in all of it's alluring glory! Week zero was enjoyable for sure, but it was just the first tiny practice jump before a giant leap.
There are so many enticing fixtures this week, with Georgia vs Oregon being one of the headliners. Thankfully, Will has already written a pretty in depth preview for that game, which is available here. Additionally, if you're reading this on Thursday night you can read Andy's Backyard Brawl preview here.
Without further ado, here's the first full set of previews for 2022:
TCU @ Colorado  BT Sport
Saturday – 3am (UK) – Boulder, Colorado
Preview: One for the early birds on Saturday morning, TCU are a dark horse in the Big 12 this year and will look to get off to a good start against a fairly average Colorado team. Max Duggan looks like he will make his 30th start as a Horned Frog, but the week one depth chart lists him as an 'OR' alongside Chandler Morris. Head Coach Sonny Dykes anticipates playing both QBs in this one, but Duggan's experience should give him the edge, especially if he can feast on a largely inexperienced Colorado secondary.
It's not every year that the Buffalos manage to attract a transfer from Alabama to come to Boulder, but that's exactly what happened when offensive lineman Tommy Brown joined the team this offseason. He'll bring some four-star pedigree to the Colorado line as they look to keep Brendon Lewis or Jordan Shrout upright. Look for Alex Fontenont to be a threat on the ground.
Key Matchup: Quentin Johnston (TCU, WR) vs Nikko Reed (Col, CB) – Quentin Johnson is the headline act on this TCU offense, he's got all the makings of a high draft pick in 2023 and he's absolutely dominant at the catch point. Nikko Reed is the best of a young Buffaloes secondary, but he figures to have his hands full this weekend.
Game Line: TCU 13.5 point favourite at the time of writing
Colorado State @ Michigan  BT Sport
Saturday – 5pm (UK) – Ann Arbor, Michigan
Preview: Sure, the game line for this one is big and Michigan should walk away victorious, but this could be a closer game that the bookies think. No-one really knows what to expect from Colorado State this season, they've got former Nevada Head Coach, Jay Norvell, at the helm and they've taken a hell of a lot of former Nevada players in the transfer portal. The most interesting duo are starting QB, Clay Millen, and deep threat, Tory Horton – look for those two to combine for a lot of yards this year.
On the Michigan side of things, there's a lot that has stayed the same. Both QBs will play, Blake Corum will look to dominate in the run game and Ronnie Bell is always a threat. However, with Aidan Hutchinson and David Ojabo gone, it'll be up to Jaylen Harell and Mike Morris to step up in the pass rush department. They'll look to ease into 2022 and cause havoc for a new-look Rams defense.
Key Matchup: Dante Bivens (OT – CSU) vs Mike Morris (DE – Mich) – An offseason transfer from Tulsa, Bivens probably saw the week one matchup and rubbed his hands together at the chance of facing a high quality guy like Morris. This matchup will determine how quickly Michigan are able to get to 'comfortable' status in this one.
Game Line: Michigan 30.5 point favourites at the time of writing
UNC @ App State
Saturday 5pm (UK) – Boone, North Carolina
Preview: Set at one of, if not the most picturesque stadiums in the world of sport, this local rivalry game should be a close run thing. Our weekly feature looked at the debut of the Tar Heels' new starting QB, Drake Maye, and it'll be on him to continue the development of his relationship with star WR, Josh Downs, against a very solid App State side.
The Mountaineers gave Miami a run for their money last year, eventually succumbing to a two point defeat. This matchup doesn't feel too dissimilar to that and the home side will be more than up for inflicting an upset. A talented stable of running backs will look to do the most damage for App State, so look for Camrun Peoples, Nate Nole and Ahmani Marshall to get the ball a lot.
Key Matchup: Nate Noles (RB, App) vs Power Echols (LB, UNC) – There's no doubting that App State's backs will be a handful for UNC, but in Power Echols the Tar Heels have a disruptive ball magnet. Echols and his fellow linebackers will need to be at their best to limit the Mountaineers run game.
Game Line: UNC 1.5 point favourites at the time of writing
Cincinnati @ Arkansas
Saturday 8.30pm (UK) – Fayetteville, Arkansas
Preview: Both of these teams had very successful seasons in 2021 and this feels like a game which will establish if they can cope with off-season losses to the NFL Draft and continue that success. The Bearcats are yet to announce their QB for the game, but it's looking increasingly like it'll be Ben Bryant under centre. Despite the loss of two very good corners to the draft, Cincinnati still boasts an experienced secondary, if last year's backups can step up, then Luke Fickell's men stand a good chance in this game.
On the flip side, Arkansas will be without star receiver Treylon Burks in 2022. In Jadon Haselwood they have a decent replacement for the new Tennessee Titan, but Burks' strength was his contribution all along the line of scrimmage as well as in the receiving game. There's a lot of experience on this Razorback defense and it may prove a bit too much for a new look Bearcats offense.
Key Matchup: Jabari Taylor (DE, Cin) vs Luke Jones (LT, Ark) – KJ Jefferson does well when he's outside the pocket, but against a good Cincinnati secondary he'll need some time for his receivers to get open. Jabari Taylor is a big threat coming off the edge and Luke Jones will need to be at his best.
Game Line: Arkansas 6.5 point favourites
Utah @ Florida  BT Sport
Sunday – 12am – Gainesville, Florida
Preview: There's a new dawn in central Florida this year, the Gators moved on from the old and welcomed Billy Napier and his coaching staff to Gainesville. However, a lot of the personnel still look the same for Florida, Anthony Richardson is being hyped as a possible top draft pick but without a lot of overhaul can this roster support him? Jason Marshall takes on a key role at corner after the departure of Kaiir Elam.
Utah come into the game as one of the favourites to emerge from the Pac-12 as a real threat in 2022. Cam Rising will look to exploit his fantastic connection with Brant Kuithe and Dalton Kincaid, whilst a very good defense will look to deal with the loss of Devin Lloyd and Nephi Sewell. If the Utes get up and running quickly, there's every chance they could leave the East Coast with a statement win.
Key Matchup: Anthony Richardson (QB, FLA) vs Utah LBs – The Gators' QB is light on his feet and likes to get out of the pocket, there's every chance the Utes stack the box, but whether they can stop him is the big question.
Game Line: Utah 3 point favourite
Notre Dame @ Ohio State BT Sport
Sunday – 12.30am (UK) – Columbus, Ohio
Preview: A lot of people have got Ohio State playing Alabama for the National Championship at the end of the season. If that is to be the case then the Buckeyes have got to handle a tough opening day test against the Fighting Irish. CJ Stroud has got so many weapons at his disposal it is laughable, so expect a high scoring affair.
Notre Dame are entering a new era under Marcus Freeman and against lesser opponents there's no doubt that they'll be their normal defensively dominant selves. However, this week it feels like Tyler Buchner is going to have to lean on Michael Mayer and Chris Tyree a hell of a lot if the Irish are going to come out with a positive result.
Key Matchup: Notre Dame secondary vs Ohio State receivers – It could get ugly if the Buckeyes' exceptionally talented receiver unit is allowed to run free. The likes of Clarence Lewis, Cam Hart and Brandon Joseph have all got big games in them, but can they all have them on the same night? It'll be blockbuster viewing.
Game Line: Ohio State 17 point favourites
Florida State vs LSU
Monday – 12.30am (UK) – New Orleans, Louisiana
Preview: The neutral site matchup which isn't a neutral site, showcasing college football scheduling at its best. LSU will have a ridiculous amount of support at this game, and everyone knows the Tigers' faithful create a good atmosphere. Whether their team will match the atmosphere is a big question mark. The LSU roster has talent all over it, Kayshon Boutte is the best receiver in the country at present and Ali Gaye looks primed for a monster season at defensive end. Brian Kelly's ability to put it all together will be the key to the Tigers' season.
Whilst some FSU fans were probably looking nervously towards this fixture a few weeks ago, the Seminoles' domination in their week zero matchup may have instilled some confidence. The Noles' had three running backs go for more than 100 yards and Jordan Travis looked solid with his deep ball before being hooked later in the game. However, LSU are a much harder opponent for FSU to test themselves against and they'll have to be firing on all cylinders if they're to extend their 7-2 series lead.
Key Matchup: Kayshon Boutte (WR, LSU) vs Omorion Cooper (CB, FSU) – Keeping Boutte relatively quiet will be the priority for FSU's defensive staff. It's easier said than done, but Cooper is an adept player that has seen more than his fair share of quality receivers in the ACC.
Game Line: LSU 3 point favourites