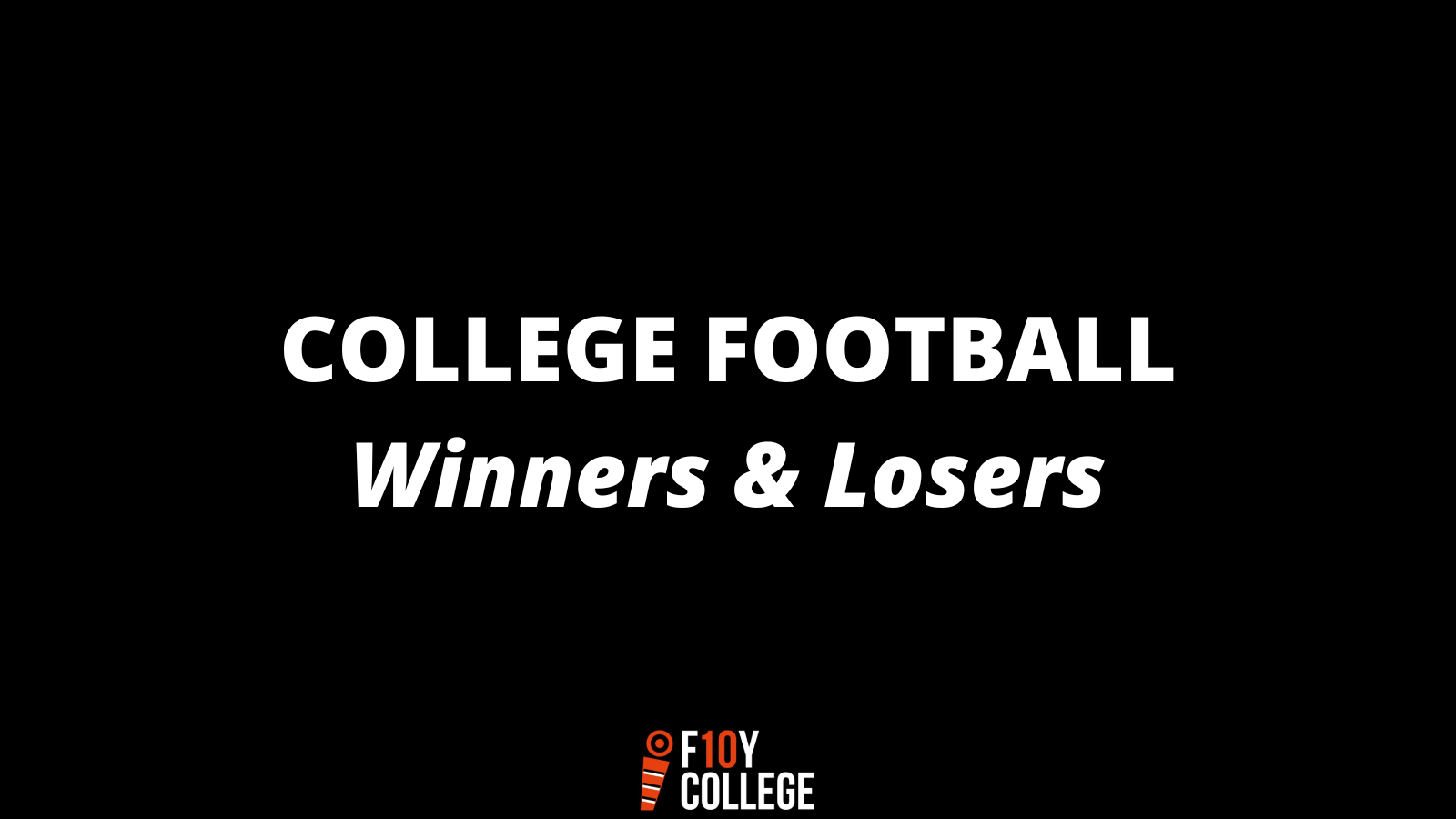 Well, that was an explosive week of action. From 120+ point games, to huge upsets and standout individual performances, week one didn't disappoint.
The best thing about the NFL season starting after the college football season is that we get a weekend of non-stop action, five days straight and at the time of writing it hasn't even finished yet.
As always there are three winners and three losers, however there could have been a lot more this weekend. So on the winners side, shout outs go to Old Dominion, Caleb Williams/Jordan Addision and Cam Ward amongst others.
Winners – Andy – @Ajmoore21 
Spencer Sanders, QB, Oklahoma State
The performance of a quarterback will, like it or not, nearly always impact the result of a team – everyone that watches football knows that. Well, Spencer Sanders is one of the most frustrating quarterbacks in college football. One week he's firing on all cylinders, the next he's turning the ball over and costing his team.
Maybe that is set to change in 2022. Sanders dragged his team to victory on Thursday night, setting a career high in passing yards and accounting for six of the Cowboys' eight touchdowns. WIth 406 yards and four passing scores, Sanders was imposing through the air, but that shouldn't take away from how improved he looked outside of the pocket. There was a clear sense that his awareness had improved, with the alarm in his head triggering on time and getting him away from the defender in order to make a play.
Clearly there's a lot of belief in OSU and Sanders this season, they wouldn't have been ranked 12th in the preseason poll if that wasn't the case. But after Central Michigan put up 44 points on the OSU defense, it would be reasonable to question whether it's going to have to be the Texas native that propels his team to success in a soon-to-transform Big12.
Georgia Bulldogs
The Georgia Bulldogs weren't disrespected after their National Championship win, but it seems those that doubted whether they'd be the same dominant team in 2022 did at least do them a disservice.
In a game that was previewed by many as a battle of two respective football powerhouses, it certainly felt over after the first quarter. Georgia's defense was dominant from the off, even with their former Defensive Coordinator standing on the opposite touchline, they never looked in any danger of being mismatched. Bo Nix was shaky, even by his standards, but that was mainly because of the work of the Bulldogs' secondary, covering the Ducks' receivers like a blanket all game long.
Stetson Bennett has had more than his fair share of doubters, but if anyone still thinks he lacks the quality to win at this level, it was the passing game which impressed most in this one. Bennett passed for 368 yards and two scores before being hooked with the scoreline out of reach. If anyone thought that Kirby Smart's men wouldn't be in the mix come the end of the season then they should have been forced to change their opinion after this performance.  
Jacoby Windmon, LB, Michigan State
If Bennett and Georgia were dominant as a whole, then Jacoby Windmon gets the award for dominant performance by an individual. The Michigan State linebacker put up four sacks, a forced fumble and seven total tackles in the Spartans' win over Western Michigan.
The most impressive element of Windmon's night was that he put on such a huge show on his debut. After transferring from UNLV in the offseason, the former three-star recruit did everything he could to impress Mel Tucker, earning a starting spot in the process. The faith Tucker showed in him evidently paid off for him big time, as his explosive play made him a one man wrecking ball in the Broncos' backfield.
At 6'2" and 229lb, Windmon is in that ideal linebacker category, sizewise. However, it was his speed and ability to anticipate the move of the lineman opposite that ensured he had so much success on Saturday night. Draft scouts and opposing Big10 Offensive Coordinators will surely have been put on high alert after week one.
Losers – Lee – @Wakefield90 
The Pac-12
Even though we have all but drawn a line under week 1 of the college football season, we can pretty much rule out the Pac-12's involvement in the college football playoff for another year.
The conference faces an uphill battle each year with the way that the conference and its teams are viewed in the eyes of the playoff committee, as well as the majority of the college football community. Add that to the absolute bludgeoning the conference took in the offseason, with the imminent departures of USC and UCLA and the losses for Utah and Oregon this weekend really are compounding the misery out west.
Considering that the Utes and Ducks lost to SEC opposition, these results only take another step towards strengthening the grip that the SEC has grabbing a second playoff team this year.
Utah put up a fight, and only lost by virtue of a last minute, end zone interception so perhaps all isn't lost and there's still USC who have opened up the season 1-0 with their defeat of Rice, but let's face it. It's over.
Big Ten Officials and UCLA Attendances
Staying with the theme of the summer and keeping the favour from above of the Pac-12 falling into deeper and deeper decline, let's talk about buyer's remorse.
As much as USC and UCLA are big brands, are they going to bring everything they can to the table… What I am talking about in particular is attendance and atmosphere.
I understand that the Big Ten wants the big schools to enhance its portfolio of name brands, but when fans turn on their TV, surely they want to see fans packing the stands and making a tonne of noise to support their teams?
Look at it. I guess it was only Bowling Green but when I think of the Big Ten fans, I think of Penn State white outs, I think of Wisconsin's fans going crazy to Jump Around, I think of Iowa's players and fans waving to the nearby children's hospital and The Big House, holding more fans than any stadium can in the Western hemisphere. Does this look fit what the Big Ten is trying to achieve?
Steven here summed up Pac-12 thoughts quite nicely, I think.
Devin Leary and NC State
I've got to admit, I don't love this one and perhaps I only feel like Leary is a loser this week because of preseason expectations on him and the Wolfpack. It also doesn't help their case when we consider that there was very little in the way of upsets in week 1.
NC State entered the season ranked #13 and Leary, one of the better draft eligible passers, was there to lead them, and as we have come to expect, ranked teams serve themselves up a nice, easy game in week 1.
The majority of these ranked teams dispatched their smaller foes with ease; #12 Oklahoma State, #10 Baylor, #14 USC, #16 Miami all had routine wins and ran up the scoreline.
Not NC State though. They faltered against an East Carolina side who stuck around and defended doggedly, with no bigger example than on this fourth down.
So why am I pinning this mainly on Leary?
Well, if we look at the numbers first; a 51% completion percentage with a touchdown and an interception, against this level of competition just doesn't look great.
Next, drawing a bank in the second half completely in terms of points, just allowed East Carolina to stick around and make life a little hairy. It's just not what is expected for a thirteenth ranked team and a high-quality passer, so for falling short of expectations Leary and the Wolfpack find themselves in the losers column this week.