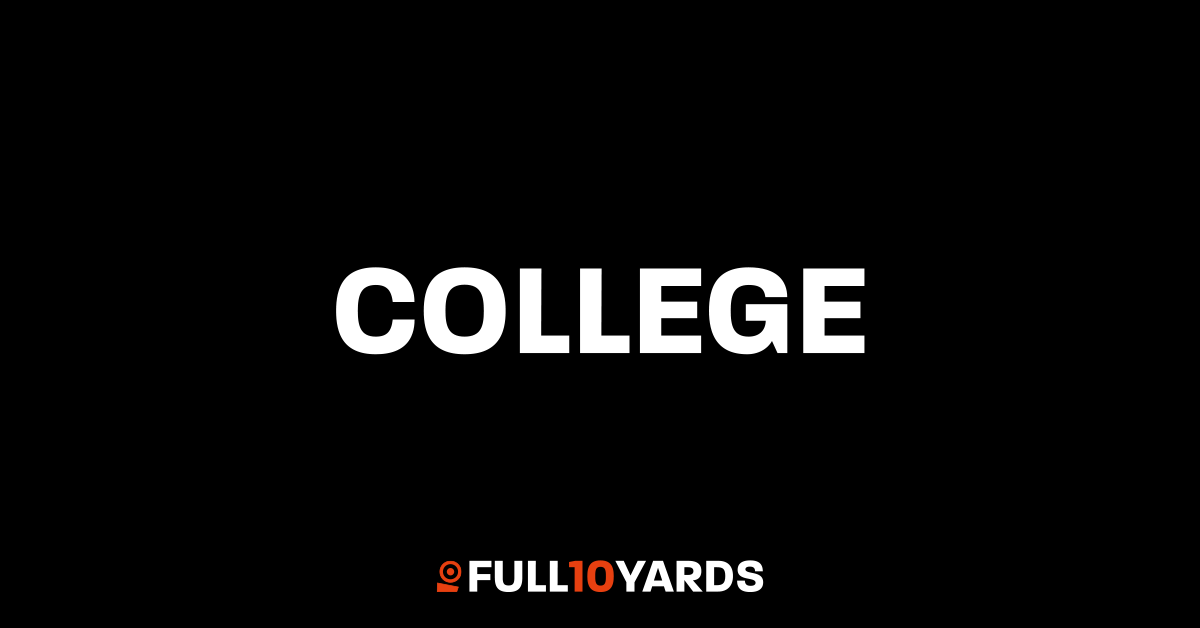 Welcome back to part two of our preseason takes article! Part 1 where we focused more on the team-based takes is here and today we are focusing on player and coach takes for the coming college football season, let's get into it!
Ok guys, so with the team takes in the bank, let's move on to talking about some of the individuals who will be lighting up the season in a few short weeks time. Let's start with Quarterbacks – Quite simply, Bryce Young or CJ Stroud?
Andy – Both incredibly talented, but I like Stroud. He's had a lot of pressure on him at Ohio State, given the depth of their QB room and the weapons at his disposal, but he dealt with that excellently last year. Young has obviously had similar pressures, but the arc that Stroud's career has taken so far, from a three-star QB, to winning the Elite 11 MVP award, boosting his rating and going on to be the starting QB for the Buckeyes is just impressive.
Raj – Too close to call, so much so you may as call the choices 1a and 1b. However my slight bias is towards Stroud, on the basis of the progression from the start of last season to how he ended the season was phenomenal. I expect a continuation of that progression, showing this season even greater poise and accuracy in the pocket. 
Kieran – As a well known hater of both teams I think this will be the most objective answer you'll ever get out of me. Personally? CJ Stroud. There's not a lot separating the two in my mind but watching CJ pass is something different. He has that something special. His ball placement, poise and swagger are truly a sight to behold.
Keith – Both of these guys have special skills, but I like Stroud a touch more right now. I think he has a higher ceiling than Young, but both should put up big numbers again this season. There's every chance they meet each other in the National Championship game, and that would be the perfect way to settle the argument on who is best!
Will – There is something to love about both of these guys, they are very talented. I have flip flopped what feels like on the daily on who I believe is better, but as time has gone on I have grown to love Bryce Young more. He has the NFL ready arm, he can stretch the field and put the ball anywhere you want him to. His deep ball is one thing that gives him the edge over Stroud, plus his sneaky ability to make plays with his legs. I'd say the only thing really favouring Stroud his footwork, I believe his ability to roll out and still make the play down field is a thing of beauty, but it is not something that Young cannot replicate with time.
Lee – I've always been a Bryce Young guy. I think he captured by imagination back at the beginning of last year. I love the poise that he plays with, the ball placement and accuracy is ungodly and he can make a play with his legs to get him out of trouble, although he does keep his eye downfield. Young plays with experience that belies his years and experience, and he's a joy to watch. 
Embed from Getty Images
So moving on from the guys throwing the passes to the guys who are catching those passes – Who is the wide receiver that you're looking forward to watching the most this season? This doesn't necessarily need to be the best guy, just the receiver you're looking forward to the most.
Andy – I'll stay at home in the ACC and say Dontayvion Wicks, the standout receiver in a loaded Virginia Cavalier pass catching room. Wicks emerged from nowhere last year, teaming up with Brennan Armstrong for 1203 yards and 9 TDs. There will definitely be more eyes on him this year, but the skill set he possesses will make him a handful for the ACC's best CBs before he heads to the NFL.
Raj – The Longhorns are going to be a team everyone will be watching this year, and for me especially to see the development of Xavier Worthy. I firmly believe this kid is on the pathway to becoming one of the next bonafide superstar wide receivers and I'm excited to see his progression in his sophomore year.
Kieran – I think we all know the answer. It's the new number 7 on the block at WRU, Kayshon Boutte. He's just second to none. A perfect blend of physical and finesse. He can moss people or he can blend guys on double moves or send them packing with silky smooth route running. Just a fantastic receiver who really deserves the number 7 jersey.
Keith – I'll go a bit left field and say Rakim Jarrett of Maryland. This Terps Offense has a chance to be really exciting this year, and Jarrett will be the focal point. Jarrett was a rare 5 star get for Maryland, as he chose to stay close to home, and he has flashed big time ability in his first two years there. With how this offense goes I expect both Jarrett and fellow receiver Dontay Demus Jr. to put up some big numbers this year, and both should be top 100 guys come draft time.
Will – Jaxon Smith-Njigba is a name that has left my mouth probably more than any other player in college football so far in the past year. Surprisingly isn't the fastest, which makes him rely more on technique. It will be very interesting to see how he fairs against being pressed up more since he mostly worked in motion and out of the slot while he was paired up with two first round receivers. He is a talented route runner with very nice footwork which allows him to exceed on all levels of the field.
Lee – As a guy with his eyes out west, I am really looking forward to seeing Jordan Addison in the USC offense. I am looking forward to the USC offense and the USC project as a whole but will Addison be worth all of the fuss and furore that surrounded his transfer from Pittsburgh to USC? We will see. He's a super dynamic receiver who led college football in yards last year and helped to make Kenny Pickett a first round QB… It should be dynamite with Riley calling the plays and a guy as talented as Caleb Williams throwing him the ball.
Embed from Getty Images
Enough of offense for a moment, give us a defensive player who you'll have eyes on all year?
Andy – With Derwin James just getting handed a monster contract by the Chargers, I'll highlight the next man off the FSU production line. Jammie Robinson is quick, aggressive and has a nose for the ball that James and Jalen Ramsey would be proud of. Mike Norvell is slowly bringing some energy back to the Seminoles and Robinson is going to be at the heart of that in 2022.
Raj – Will Anderson May be the best defensive player in college football however for my money Jalen Carter is very close behind. With all the talent on the Georgia defense last year, Carter still stood out as the top guy and I hope he has the chance to shine once more as the beacon and cornerstone of the defense.
Kieran – I think the go to here for me is Felix
Anudike-Uzomah. Maybe underrated when compared to the Will Anderson's or BJ Ojulari's of the world but still a great edge prospect with all the talent in the world despite being part of a seriously underwhelming KSU team. He excels at almost everything he does on the field and I can't wait to see more of him.
Keith – The 2021 Georgia defensive line had three first round draft picks on it, including the number one overall selection, yet the best player on that line will be back in 2022….
Defensive tackle Jalen Carter is just a special animal, combining almost perfectly the best parts from his fellow DTs from last year in Jordan Davis and Devonte Wyatt. He is so quick, strong, disruptive and has the best pass rush ability of any returning interior defensive lineman in the country. He will now become the main man in that Georgia front seven, and if he can carry on improving he will be a top 10 lock come next April.
Will – I love my corners, so how can I not talk about Eli Ricks. The only real concern is his speed, but everything else checks out. He has the height and length of a starting cornerback and the ability to make any quarterback pay who takes the chance to throw his way. While teammate Will Anderson is the talk of the town, Ricks will look to make a name for himself in new threads this season and will definitely make an impact on the Crimson Tide's defense. He is the perfect zone corner.
Lee – We are going to talk about Will Anderson an awful lot throughout the season, and I will do a little bit later on, especially as someone who loves pass rushers, but I'll try to anticipate that and not be repetitive and go in a different direction and mention Kelee Ringo, the corner for Georgia. I mentioned during our summer scouting podcast episode on corners that Ringo gave me Jalen Ramsey vibes, which is super-high praise so I'll be looking for him to prove me right!
Embed from Getty Images
Next, let's check in on the coaches – There have been some big appointments over the offseason, LSU, Oklahoma, Florida and USC in particular have made some high-profile hires in Brian Kelly, Brent Venables, Billy Napier and of course, Lincoln Riley… Of these four, whose team has the best season?
Andy – After our earlier predictions I'll stick to Brent Venables and Oklahoma here. Venables has got arguably the 'easiest' conference, an experienced QB and enough acumen to solidify the Sooners' defense. Lincoln Riley and the Trojans may be there or thereabouts come the end of the season, but it's about time Oklahoma had the success that their talent teases.
Raj – Riley gives USC back their X factor and with Caleb Williams under center, I believe he will be the best of the new head coaches. Of all the new head coaches, he is most proven from the lot and I fully expect him to take the Trojans to the PAC 12 title and be in the mix for a National Championship
Kieran – After a rather tenuous start to his LSU career I think Brian Kelly has separated himself from the pack. Known for doing a little with a lot at Notre Dame he now has the resources of a proper athletic institution behind him and he's not only got the number 5 recruiting class in the nation but he's a built an insane quarterback room, continues to develop the weapons in the WR room and has got our defence looking the best it's looked since 2019. His southern accent is a little silly but he has free reign on that if he wins games this year.
Keith – I was shocked when Lincoln Riley bolted to USC, it seemed from the outside that it was all about money and that usually never ends well. However, from what we hear in Trojan land, Riley is making USC very relevant, very quickly. He abused the transfer portal to land himself players he was familiar with and could trust, and then added some cream on top with possibly the best WR in college football too. I think he'll get the best out of what he inherited (which is still full of 4 and 5 stars) and make them PAC 12 contenders right away.
Will – Brent Venables has got a good season ahead of him. Hard to not bring up how brilliant he is defensively when you bring up his name. The staff he has supporting him will help lead Oklahoma to what I believe is a very successful year. While everybody in the Big XII Zigged the Sooners decided to Zag by trying to assemble a defense that is sure to give these offenses some fits.
Lee – I like Brent Venables in Oklahoma. I think he's proven at Clemson that he's one of the brightest defensive minds in the college football ranks and with that I think he has a chance to really push the Big XII in a way that those teams aren't used to being pushed. The way down there is usually to fight fire with fire but Venables might have some ideas about that! I think he and the Sooners will push Baylor all the way and the outlook will look good moving forward. 
Embed from Getty Images
Ok, let's get back on to players to wrap up here… Who will be the Heisman Trophy winner?
Andy – I've just finished my ACC predictions for the season and I couldn't stop putting Miami down as a W every week – even against Clemson. The reason for that is Tyler Van Dyke. Mario Cristobal landed a pretty nice job with the Canes, but Van Dyke's presence makes it even tastier. He's got all the tools to be a big time player in the NFL and sadly (from an FSU standpoint) I think he's going to dominate the ACC this season.
Raj – Have to go with my guy, the best player in college football, and for whom I knew last season that once he got on the field, he was a genuine superstar. That guy is TreVeyon Henderson and I haven't seen a running back that good since Christian McCaffery at Stanford. The guy has it all and a lot of talk will be about Bijan Robinson, however I think Henderson could put some monster numbers this season to be considered a Heisman candidate. 
Kieran – In my eyes it's going to be a three way toss up between, Will Anderson, CJ Stroud and Bijan Robinson. All three guys are just exceptional players and I think we might see one of the tightest races for the trophy in a long time. As much as he's a rival it would be nice to see Will Anderson claim the first defensive Heisman since Charles Woodson though.
Keith – If the Heisman Trophy really was for the best player in college football, then Will Anderson would have won it last year. Unfortunately, it seems to go to the best skill player in college football instead, and most of the time it's a Quarterback. Now if Will Anderson has a similar year this year he can't be ignored again surely…. but I'll say that Texas do pull up a few trees this season and Bijan Robinson goes off for 2000+ yards and looks like the second coming of Ricky Williams and wins it.
Will – Bryce Young is my Heisman Trophy winner for this season, but the Heisman race will be really close I believe. Teammate Will Anderson is a name that would not surprise me at all to see brought up, and if Texas does what many believe they do, then give me Bijan Robinson as well. But Bryce Young is my winner.
Lee – If my prior prediction of Alabama taking the National Championship over Ohio State comes true, I can't see too far past Bryce Young here. It'll have the story, which I think is vital to the Heisman, and he'll also have the hardware, especially if the Tide take the SEC Championship as well as the Natty. 
Embed from Getty Images
And in the truest sense of the award, will your winner, be the best player in college football? If not, who will be?
Andy – I'll continue the Oklahoma love and go for Dillon Gabriel. The Heisman Trophy is pretty boring when it comes to wildcards winning it and I've backed the Sooners to make the CFB playoffs, so it makes sense that their QB would be in the running. Gabriel has been excellent at UCF, and with the help of a new coaching staff he should finesse a few things.
Raj – I think Tre'Veyon Henderson will be the best player in college football but Will Anderson will run him close. The guy is a monster when it comes to getting after the QB, to the extent he may be unblockable. Utter domination is the mantra of his game and I expect that to continue this year.
Kieran – Despite many projections for Will Anderson being the best in college football this year I think we will see Stetson Bennett make a huge difference at West Virginia and emerge as a top QB after a year with the Mountaineers. He's got the maturity and IQ to be a really good signal caller even if he isn't a flashy athlete like some of the other guys under centre this year.
Keith – I think Will Anderson will be the best player in 2022, as he was in 2021. However, I also think new USC quaterback Caleb Williams will go berserk and put up computer game numbers in the PAC 12, and solidify himself as QB1 for the 2024 draft class.
Will – Will Anderson is just unblockable, he finished the 2021 campaign as college football's most dominant player. The best player in the best system is a hard combination to beat, especially when in that system he gets to be on the attack at all times. He will constantly be terrorizing your favorite quarterback every Saturday, so just be ready for that.
Lee – Well, defenders never win the Heisman do they? But Will Anderson is the best player in college football right now. The level of play that we've seen at such a young age, at a programme and for a coach that demands 100%, 100% of the time is outrageous. I wrote him up here as part of our "Introducing…" series earlier this summer.
Embed from Getty Images
And finally – Give me the number 1 overall pick for the 2023 NFL Draft in Kansas City?
Andy – CJ Stroud to the Giants. It'll be a QB heavy draft, so I do question if a player like Will Anderson will be more valuable with the first pick. But if there's a team in a position to take their pick of Stroud, Young and whoever emerges from the wider pack, that GM will be salivating at the talent he has to choose from.
Raj – Will Anderson to the New York Jets. Zac Wilson is too busy with his outside of work commitments and rehabbing from his injury so the Jets may give him one more year in 2023, thus the Jets then taking advantage of getting Anderson with the 1st Overall pick.
Kieran – The Giants either go ahead and select Will Anderson or CJ Stroud. You can't build a franchise around Danny Dimes but nepotism is a hell of a drug in the NFL. Either way this draft cycle is going to be a ton of fun and absolutely nuts.
Keith – I really hope a non QB needy team sits at the top of the draft so they can take Will Anderson, but unlike last year, we have a couple of QB's who will have teams clambering to move up and get them. So, I fully expect either C.J Stroud or Bryce Young to be the top selection, but which one will depend on what that specific team values the most. I have a feeling Bryce Young's size will become a thing (especially if he comes in under 200lbs), so I'll say C.J Stroud will go first overall, to the Seattle Seahawks.
Will – It all depends on who has that first overall pick in 2022, which I just so happen to predict being the Chicago Bears. The Bears practically setup Quarterback Justin Fields for failure out the jump, that rookie campaign was hard to watch simply because you just had nothing around him. Blow it all up, I am sure somebody will want to give Fields a chance, maybe he will be the next QB sent to Carolina you never know. With all that being said, Bryce Young will be and should be your first overall pick.
Lee – As much as I really want a pass rusher to go number 1 overall for the second year in a row, and as much as I feel like Will Anderson is the best player in college football, QB value takes over far too much at the top of the draft, so I have to pick a passer, coupling that with the fact that I think the Atlanta Falcons will be picking first and will need a QB.
Bryce Young will have the size debate that'll follow him around in the pre-draft cycle and that could put some teams off. So I'm going to plump for CJ Stroud at number 1 to the Falcons, with Bryce Young not too far behind at some point in the top 5.
Ok and that's a wrap for our preseason takes! Thanks to all the guys for their input for this and we can think of this as the start of our in-season content for the coming college football season! So keep your eyes on the website and our Twitter pages over the coming weeks and months.