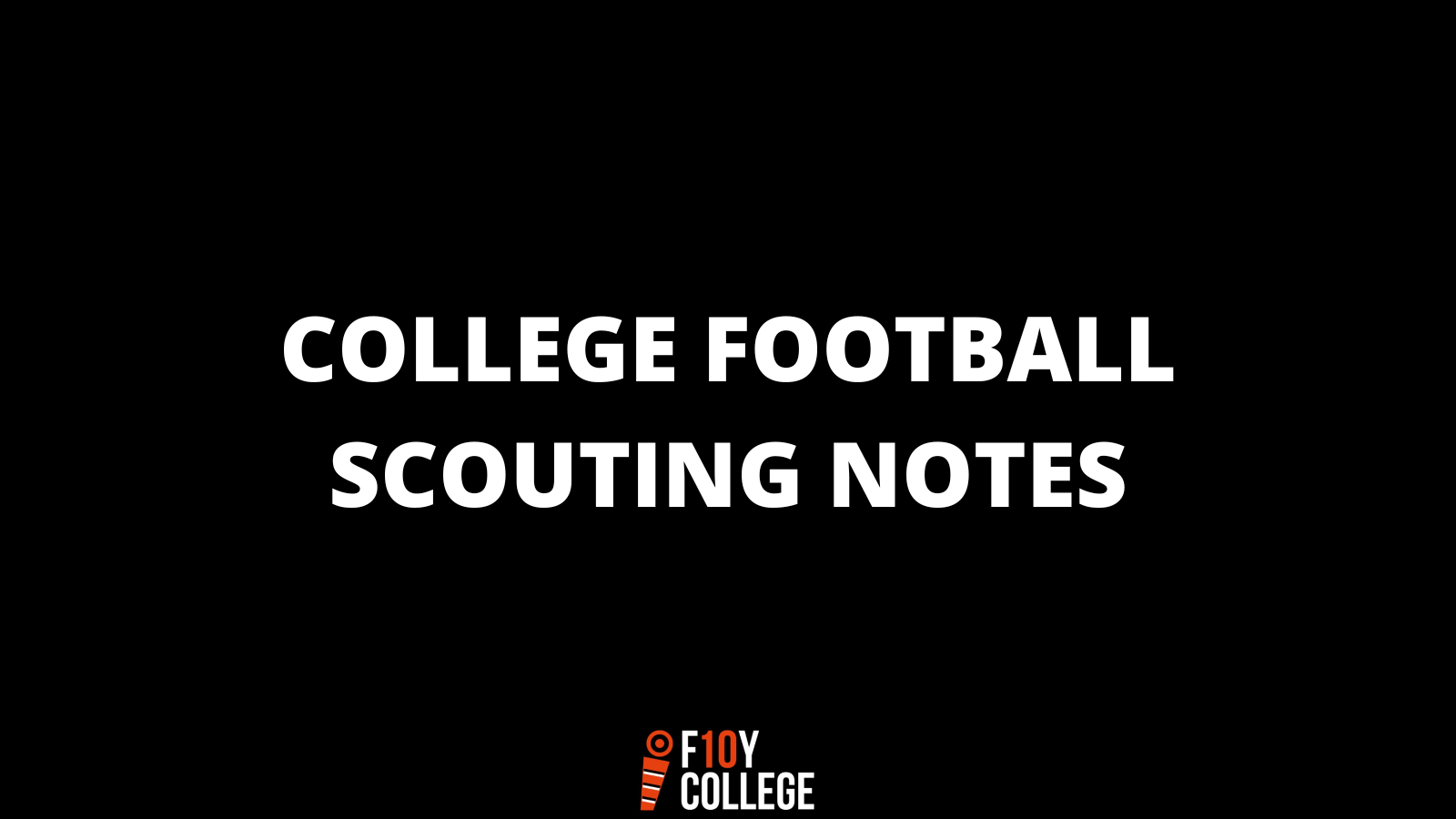 This was by far the best match up of the week 2 slate, especially from an NFL draft perspective, and although not many gave the Longhorns a chance they almost pulled off a big upset. Texas can take a lot of pride with how they responded after losing their quarterback to injury in the first half, but as usual Alabama found a way to win, even when nowhere near their best. 
Let's start our scouting notes with the almost guys, those new look Longhorns…
Texas
Now it must be said that this was very much a defensive struggle, but before his injury, Quarterback Quinn Ewers looked every bit the phenom he's been built up to be. He has an effortless throwing motion, a big accurate arm and led his offense with poise. This injury will knock him out for four to six weeks, which is a big shame, but let's hope he's back sooner rather than later.
His replacement Hudson Card stepped in admirably, but he doesn't have the skill set that Ewers does. He does have ability though and he was only one or two plays away from causing the upset. He will get a run of games now to show what he has, and more than likely we will see him in the transfer portal at the end of the year, as he tries to find a starting gig for the 2023 season.
The star of the Longhorn offense is undoubtedly running back Bijan Robinson. Now Alabama set up to stop him and make the quarterback(s) beat them, and they succeeded with that plan. Robinson was held to just 57 yards with a 2.7 average. That doesn't tell the whole story though as Texas has a very inexperienced offensive line, and they had big issues against the 'Bama front. Robinson had to feed off of scraps but what is still easy to see is how dynamic he can be. His biggest play of the game came on a wheel route, perfectly executed, for a big gain up the sideline.
Whilst the yards were tough to find on the ground in this game, and perhaps for some time to come with this young line in front of him, the talent is clear to see and he'll remain atop most peoples running back lists, barring injury of course.
There is something special about Wide Receiver Xavier Worthy. He has the same size and skill set of DeVonta Smith, which will cause some to be wary of him, but like Smith, Worthy can take over games if targeted. He almost had an great TD laying out in the end zone, almost snagging a Ewers bomb, but he was a threat all game, going against a very talented secondary. He isn't draft eligible yet, but his name will be a hot topic entering the 2024 draft cycle. 
There's a little bit of Deebo Samuel about wide receiver Jordan Whittington. He has a thick build with a strong lower half, and has some very nice YAC ability. He made a couple of impressive catches here and was a nice chain mover for the offense. He did have a bad drop too though, so there are things to work on, but he has a nice look about him and hopefully he won't get lost with all the other weapons that this offense has.
As I mentioned earlier, the offensive line is very young, but it does have one senior on it, and that is right tackle Christian Jones. Whilst there was chaos going on all around him, Jones held up incredibly well here, especially in pass protection. He spent last year at Left Tackle and that did not go well at all, so he's back over on the right side and looks very natural there indeed. More tape like this, especially against top pass rushers like he faced here, and his name will be moving up boards.
The biggest surprise was how the Longhorns managed to almost shut down this powerful Alabama offense. Their success started up front where their big boys challenged a new look Crimson Tide offensive line, and for the most part won their battles.
The most impressive of the front seven was the versatile senior Moro Ojomo, who spent most of his time lined up as an interior player, but has more of an EDGE size and style. Listed at 6'3 281lbs, he clearly wouldn't be able to hold up on the inside in the NFL, but he could play a five tech/big end role no problem. He didn't trouble the stat man much, but he did have three pressures and he was a constant pest, creating disruption at the point of attack and slowing down that fast tempo Alabama offense.
The entire Longhorn secondary played well and limited the big plays that Alabama's offense thrives on, and the best player for me was nickel defender Jahdae Barron. Playing that role can be a thankless task, but Barron had the look of a really smooth athlete in coverage and was a force against the run too, the perfect combination for that position. He hasn't had a great deal of playing time in his first two seasons in Austin, but he has the starting role now and looks like he could develop into a real playmaker.
Alabama
There will be people looking at quarterback Bryce Young's stat line and assuming he had a rough game, but in all honesty he did all he could do here. When it came down to the crunch, he led his team down the field in 90 seconds for a game winning field goal.
Yes, the stats aren't great, but he spent a lot of time with pressure in his face, as his inexperienced offensive line was continuously exposed, and a few drops from his young wide receivers didn't help either. Like C.J Stroud the week before, Young faced adversity and carried the team to the win, and that's why both Quarterbacks are so highly thought of. 
Running Back Jahmyr Gibbs has been a name on most people's lips during summer scouting, as the former Georgia Tech runner swapped the ACC gutter for an SEC powerhouse. He'd flashed ability the last couple of years but now he has the platform to show a national audience how good he can be. He is the Crimson Tide's number one running back, and looks every bit as good as his predecessors, including two former first round draft picks. Gibbs has an explosive running style, hitting the hole at speed and is decisive in his cuts. He is a fantastic receiving threat, displaying natural hands and route awareness, and this game he highlighted his catching ability grabbing 9 passes for 74 yards and a touchdown. Gibbs honestly reminds me of Alvin Kamara with a splash of Christian McCaffrey, and I think all 32 NFL teams would want a back like that. There's every chance this game will have the top two running backs selected in the 2023 NFL draft, and the both could be first rounders too.
As I alluded to earlier, this isn't the greatest looking Alabama offensive line, but a true Sophomore did stand out and looks the real deal. right tackle JC Latham was a five star prospect out of Florida, and the number three overall recruit in 2021, according to 247 sports. He looked every bit of that lofty rating, and at times reminded me of Evan Neal when he was on the right side in the 2020 season. He excelled in pass protection, using a great base to latch on and dominate defenders. He ended up bailing some of his teammates out at times and looked to have an old head on very young shoulders. You'd expect him to move over to the left side in 2023, and like Neal before him, has every chance of being a top 10 pick come the 2024 NFL draft.
The star of this defensive unit EDGE Will Anderson had a relatively quiet game by his standards, but a quiet day for this monster still resulted in five tackles, two for a loss and one sack. He is unblockable at times and can create havoc on every snap. Only right tackle Christian Jones could slow him down, but even then he still beat him a couple of times too. He is a beast and he will be a top three pick. 
I think Linebacker Henry To'o To'o is a bit overrated and he didn't do anything in this game to change my mind. I see a lot of athletic ability but he takes so many false steps on run plays that he can't recover and lanes open up on him. I can't get on board with this first round talk, to me he is an early day three player.

The best player for me defensively in this game was defensive lineman Byron Young. He was a run stuffing machine and was the main reason that Bijan Robinson had so little room to work with. He has violent hands that keep his chest clean and his quick twitch gets him into space to blow up plays. He is a bit undersized to play inside full time, and Alabama uses him over the tackle in their odd front a fair bit as well, and this is probably where he'll play at the next level. He hasn't graded this highly for me before, so this level of play will need to remain if he wants to climb the list and into the mid rounds.
---
By Keith Lucken – Follow Keith on Twitter @lordlucken